Student Support
Student Governing Council
To nurture leadership skills in students, at the beginning of every academic year, student leaders are nominated by HODs and class teachers to form Student Government Council. These student leaders are bestowed with designations as president, vice president, cultural secretary, etc. to lead and represent others. Apart from this, there are also different houses and all the students of the college belong to one or the other house. Each house has nominated house captain and vice-captain. Investiture ceremony is observed to bestow offices to these nominated leaders. During college programmes all these selected leaders work as a team.
SINDHI COLLEGE STUDENTS' GOVERNING COUNCIL 2020 - 21
S.N
POST
NAME
CLASS
1
PRESIDENT
CHITHKALA BHAT
5th Sem B.Com
2
VICE - PRESIDENT
SRILEKHA DESHPANDE
5th Sem BA
3
CULTURAL
SECRETARY
CHETHAN KUMAR S

---

BINDU R
5th Sem B.Sc

---

3rd Sem BCA
4
SPORTS
SECRETARY
CHETHAN S

---

SNEHA K C
5th Sem BCA

---

3rd Sem B.Com
5
GENERAL
SECRETARY
KHUSHAL G

---

AROMA THARWANI
5th Sem BBA

---

5th Sem B.Com
6




JOINT
SECRETARY
CHANDAN

---

VINITHA

---

ASWIN SINOJ

---

SUMAN JHA
5th Sem BBA

---

5th Sem B.Com

---

3rd Sem BBA (Aviation)

---

3rd Sem B.Com
7




DISCIPLINE
SECRETARY
SANJAY KUMAR

---

RAMYA D U

---

Md. HAMEED SHARIFF

---

JAYALAKSHMI BAI
5th Sem BBA

---

5th Sem BCA

---

5th Sem BBA

---

3rd Sem BBA
8
DEPUTY
SECRETARY for PG
KOPAL SAI TEJA
3rd Sem M.Com (FA)
HOUSE CAPTAINS & VICE - CAPTAINS
GOLDEN FLASH
| | | |
| --- | --- | --- |
| CAPTAIN | GABIR AHMED SALIH | 5th Sem BCA |
| VICE - CAPTAIN | SRI SANJANA | 3rd Sem BBA |
BLUE FLAMES
| | | |
| --- | --- | --- |
| CAPTAIN | DINCY DECHAMMA M M | 3rd Sem B.Com |
| VICE - CAPTAIN | NEETU | 1st Sem BBA(Aviation) |
RED STORMS
| | | |
| --- | --- | --- |
| CAPTAIN | BINDUSHREE | 5th Sem B.Com |
| VICE - CAPTAIN | HARI HARAN | 1st Sem B.Com |
GREEN RAPTORS
CAPTAIN
THOMSON
3rd Sem B.Com
VICE - CAPTAIN
BHARGAV
1st Sem BA
SINDHI COLLEGE STUDENTS' GOVERNING COUNCIL 2019 - 20
S.N
POST
NAME
CLASS
1
PRESIDENT
Nabil Ahmed Siraj
III BBA
2
VICE - PRESIDENT
Akash Anand Khandari
12
3
CULTURAL

SECRETARY
Jagdish N Pai

Chithkala bhat
III BBA

II B.COM
4
SPORTS

SECRETARY
Hemanth kumar P K

Srilekha Deshpande
III BBA

II BA
5
GENERAL

SECRETARY
Shushank kumar

Sucheta K N
III B.COM

III B.COM
6
JOINT

SECRETARY
Saqlain khan

Sanjana Vallabha G

Haripriya K

Kushal G
III B.COM

III B.COM

III B.COM

II BBA
7
DEPUTY

SECRETARY
Bharath choudhary

Chandan B Reddy
III B.COM

III B.COM
8
DISCIPLINE

SECRETARY
Rajshekar S

Tejas V

Aroma tharwani

Aliya sharriff
III B.COM

III BBA

II B.COM

II B.COM
HOUSE CAPTAINS & VICE - CAPTAINS
GOLDEN FLASH
| | | |
| --- | --- | --- |
| CAPTAIN | Kalyan Kumar | III B.COM |
| VICE - CAPTAIN | Jayalakshmi | I BBA |
BLUE FLAMES
| | | |
| --- | --- | --- |
| CAPTAIN | Chandan | II BBA |
| VICE - CAPTAIN | Gourrank Pamnani | I B.COM |
RED STORMS
| | | |
| --- | --- | --- |
| CAPTAIN | Chethan Kumar S | II BSC |
| VICE - CAPTAIN | Shreyank | I BCA |
GREEN RAPTORS
CAPTAIN
Amarjith singh
III BBA
VICE - CAPTAIN
AbhiRam
I BBAM
SINDHI COLLEGE STUDENTS' GOVERNING COUNCIL 2018 - 19
POST
NAME
CLASS
PRESIDENT
MANAV
B.Com 5th Sem 'A'
VICE - PRESIDENT
ANUSHA
B.Com 5th Sem 'A'
CULTURAL

SECRETARY
JCHRISTEEN CATHERINE
BBA 5th SEM
SPORTS

SECRETARY
Hemanth kumar P K

Srilekha Deshpande
III BBA

II BA
GENERAL

SECRETARY
AKASH ANAND

KHANDARI

USHA RANI

PRATHEEK
BCA 3rd SEM

BCA 5th SEM

BCA 5th SEM
GENERAL

SECRETARY
TEJU

JAMAL
B.Com 5th Sem 'A'

BBA 5th SEM
JOINT

SECRETARY
DEEPANSHU

NABIL

BHAVANA REDDY

SUFIYA
B.Sc 3rd SEM

BBA 3rd SEM

BBA 5th SEM

BBA 1st SEM
DEPUTY

SECRETARY
Bharath choudhary

Chandan B Reddy
III B.COM

III B.COM
DEPUTY

SECRETARY
SUSHANK KUMAR

BIJU PARAIVIASIVANI
B.Com 3rd SEM 'A'

B.Com 3rd SEM 'A'
HOUSE CAPTAINS / VICE CAPTAINS
House Name
POST
NAME
CLASS
GOLDEN FLASH
CAPTAIN

VICE- CAPTAIN
SAQLAIN

MD.UMAR FAROOQ
B.Com 3rd SEM 'A'

BCA 1st SEM
BLUE FLAMES
CAPTAIN

VICE- CAPTAIN
RAHUL T NANDYA

KHUSHAL
BBA 1st SEM
RED STORMS
CAPTAIN

VICE- CAPTAIN
ANIL

CHITHKALA
BCA 5th SEM

B.Com 1st SEM 'B'
GREEN RAPTORS
CAPTAIN

VICE- CAPTAIN
KAUSHIK

SATHISH KUMAR
B.Com 5th Sem 'B'

B.Com 1st SEM 'A'
INVESTITURE CEREMONY HELD ON 28TH JULY 2018
STUDENTS' GOVERNING COUNCIL 2017 - 2018
POST
NAME
CLASS
PRESIDENT
Siddharth Mehta
3rd BCOM
VICE - PRESIDENT
Abdul Razack
3rd BCA
CULTURAL

SECRETARY
Pawan Kumar A

Christeen Catherine Joseph
3rd BCA

2nd BBA II
SPORTS

SECRETARY
William Immanuel

Soundary B.K
3rd BBA

3rd BCOM
GENERAL

SECRETARY
Sujay.P.J

Indrani.1
3rd BCOM

3rd BBA
GENERAL

SECRETARY
TEJU

JAMAL
B.Com 5th Sem 'A'

BBA 5th SEM
JOINT

SECRETARY
Soundary B.K

Syed Sadiq

Manish.B.J

Romilla Khanna

Saqiba Khanum
3rd BCOM

3rd BCOM

3rd BCA

3rd BBA

3rd BBA
HOUSE CAPTAINS / VICE CAPTAINS
House Name
POST
NAME
CLASS
GOLDEN FLASH
CAPTAIN

VICE- CAPTAIN
T.Pooja Singh

Shushank Kumar
3rd BCA

1st BCOM
BLUE FLAMES
CAPTAIN

VICE- CAPTAIN
Anusha.S

Vaibhav Chaudhary
2nd Bcom

1st BCA
RED STORMS
CAPTAIN

VICE- CAPTAIN
Nishanth .N

Shushank Kumar
3rd BCOM

1st BCOM
GREEN RAPTORS
CAPTAIN

VICE- CAPTAIN
Inam Ulhassan

Biju Paramasivam

Nabil Ahmed Siraj
3rd BCOM

1st BCOM

1st BBA
Investiture Ceremony held on 29/07/2017
STUDENTS' GOVERNING COUNCIL 2016 - 2017
POST
NAME
CLASS
PRESIDENT
Pemmaiah.N.V
3rd Bcom
VICE - PRESIDENT
Vivian Justi.P
3rd Bcom
CULTURAL

SECRETARY
Shashank .R

Sagarika.R
3rd BCA

3rd BBA
SPORTS

SECRETARY
Abhijit Muguran

S.R.Maithr
3rd BBA

3rd BSc
GENERAL

SECRETARY
Pooja Sen
2nd BCA
JOINT

SECRETARY
Sanjay

Simran Jeet kaur
3rd Bcom

3rd Bcom
Investiture Ceremony held on 22/07/2016
STUDENTS' GOVERNING COUNCIL 2015 - 2016
POST
NAME
CLASS
PRESIDENT
RAHUL BHAT
3rd B.Com
VICE - PRESIDENT
BINDHIYA
3rd B.com
CULTURAL

SECRETARY
SHASHANK R

ASMA
2nd BCA

3rd BCA
SPORTS

SECRETARY
GOUTHAM
3rd BBA
GENERAL

SECRETARY
BHAVANI
2nd BCA
Investiture Ceremony held on 17/7/2015
STUDENTS' GOVERNING COUNCIL 2014 - 2015
POST
NAME
CLASS
PRESIDENT
Bhavesh.G
3rd BCA
VICE - PRESIDENT
Rahul Bhatt.M
2nd Bcom
CULTURAL

SECRETARY
Karthik
3rd BBA
SPORTS

SECRETARY
Anjali

Nair(Girls)

Praveen(Boys)
3rd Bcom

3rd Bcom
GENERAL

SECRETARY
Bhavani H.V
3rd BCA
Investiture Ceremony held on 07/08/2014
Human Rights Cell
HUMAN RIGHTS are based on dignity, equality and mutual respect – regardless of your nationality, your religion or your beliefs.
HUMAN RIGHTS are the rights all human beings have by virtue of being human beings.
HUMAN RIGHTS are derived from the inherent dignity of the human person and are defined internationally, nationally and locally by various law making bodies.
There are six Human Rights guaranteed by Indian Constitution, they are
Right to Equality (Articles. 14-18)
Right to Freedom  (Articles. 19-22)
Right against Exploitation  (Articles. 23-24)
Right to Freedom of Religion (Articles. 25-28)
Cultural and Educational Rights (Articles. 29-30
Right to Constitutional Remedies (Articles. 32-35)
Purpose of establishing the Cell:

The fundamental rights were included in the constitution because they were considered essential for the development of the personality of every individual and to preserve human dignity. The writers of the constitution regarded democracy of no avail if civil liberties, like freedom of speech and religion, were not recognized and protected by the State. According to them, democracy is, in essence, a government by opinion and therefore, the means of formulating public opinion should be secured to the people of a democratic nation. For this purpose, the constitution guaranteed to all the citizens of India the freedom of speech and expression and various other freedoms in the form of the fundamental rights. Having these perspectives, the institution formulated Human Rights Cell (Fundamental Rights) on 4th February 2019.

Aim: To expedite and empower the people to enjoy human rights in each and every walk of life
Objectives of the Cell:

To ensure and protect human rights
To enhance awareness and knowledge among the people in and around the college by organizing various awareness programmes
Members:

Executive members:

Dr. B.S. Srikanta- Principal
Prof. Asha N- Vice Principal
Prof. Grace- Convenor
Dr. Padmavathy. K
Dr. Uma Maheswari
Mr. Devaraju
Prof. Swathika
Women Empowerment Cell and Anti-Sexual Harassment Cell
The cell is formed with the aim of creating awareness of women's rights and duties. It is a platform for girl students to share views and experiences regarding their status in the society and gender related issues.
To empower women by motivating them to learn self-defense practices etc.
To conduct self-defense courses like karate and others.
To motivate and give support to the girl students how to face the consequences in the working environment.
To arrange seminars and Guest Lectures on subjects related to gender issues.
To develop and implement a policy against sexual harassment.
To evolve an effective mechanism for prevention, prohibition andredressal of cases related to sexual harassment.
To promote an environment that will raise awareness about anddeter acts of sexual harassment of students.
To generate awareness about the mechanism of redressal of sexualharassment related issues among students.
To empower students and generate an environment free fromsexual harassment of any nature.
To uphold commitment of the Institution to provide an environment that is free from discrimination and violence or any kind of psychological trauma to women in relation to sexual harassment.
To conduct programmes and workshops that create awareness relating to sexual harassment.
To communicate good values and uphold them in solving issues related to sexual harassment.
Mechanism for redressal of sexual harassment
Complaints of sexual harassment shall be lodged with the committee / class teacher / HOD / Vice Principal/ Principal. Such complaints should be taken up by the committee for resolution through mediation, conciliation and enquiry.
The complaints should be made in writing. If the complaint is not able to give in writing himself/ herself, the complaint can be given in writing or his / her behalf by his/ her companion.
The complainant is at liberty to withdraw the complaint at any stage of enquiry, provided such withdrawal is made independently and under free will. The enquiry may be terminated on receipt of the request for such withdrawal.
The committee is empowered to terminate the enquiry proceeding and to give ex-parte decision on the complaint on valid grounds. It shall submit a detailed report communicating its findings based in its investigations. The committee shall pronounce its verdict whether the accused is / are guilty or not guilty. The committee in case in which the accused is / are found guilty, should indicate the gravity of the offence, whether it is major, serious or minor.
The complainants/s and the accused shall be given reasonable opportunity to present and defend their cases. Witness may be called if deemed necessary. In case the accused fail/s to attend consecutively for three hearings despite call notices for the same, the enquiry may be terminated and the decision taken on the complaint on ex-prate basis.
Counselling services may be made available to the victims and the accused on request.
If the complainant the accused and the witnesses desire to be accompanied by a companion of their choice, they may be permitted to do so, provided the person so chosen will have only observer status and shall leave the meeting after making his/ her testimony.
The complainant and the accused shall have the right of cross examination of all witnesses.
The enquiry committee shall have the right to disallow questions from the victim or the accused, if the questions are deemed irrelevant and unnecessary.
All persons heard by the enquiry committee as well as observes shall take and observe an oath of secrecy about the proceedings.
Regressive disciplinary action: committee would pass on the findings of the enquiry committee to the Honourable Chairman, for taking appropriate regressive action. If the chairman finds that, there Is requirement for further investigation and he may order for review of the report by the enquiry committee and may even refer the case to competent legal authority, if it is grave nature.
Women Empowerment Cell
Chairman : Dr.B.S.Srikanta, Principal
Convenor : Ms.E.K.Radhika, HOD Dept. of Computer Science
Members
Ms.Shashikala, Dept. of Management
Ms.Jayashree, Dept. of commerce
Ms.Kalaivani, Dept. of Computer Science
Dr.Swetha, Dept. of PG Studies
Anti-Sexual Harassment Cell
Chairman : Dr.B.S.Srikanta, Principal
Convenor : Convenor : Ms.Shashikala, HOD, Dept. of Management
Members
Ms.E.K.Radhika, HOD, Dept. of Computer Science
Ms.Jayashree, HOD, Dept. of Commerce
Ms.Kalaivani, Dept. of Computer Science
Ms.Nandini.S, Asst. HOD, Dept. of Management
Scholarships
Sindhi Seva Samiti which sponsors Sindhi group of Institutions is benevolent in extending scholarships to meritorious, sports achievers and under privileged students annually. Students belonging to these categories are identified and scholarships disbursed according to the merit and need. Scholarships are given to the following categories of students.
Meritorious Students
Students belonging to SC/ST Category
Sports Category
Children of Teachers
Children of Defence Personnel
Students belonging to Economically Weaker Section
Academics
Sindhi Research cell of the college encourages students to pursue research by taking up minor projects during vacation. Teachers guide these students in the area of their interest and thus nurture research culture amongst the students. Financial aid is also extended for data collection and other expenses incurred in the course of doing research.
SPORTS
Sports is of paramount importance to the students personality development. It provides plethora of benefits to students; improves quality of life, sharpens mind, etc. If this is turned into expertise, then it can even lead to avenues for developing a career.

Students are encouraged to participate in sports at college, inter - collegiate, university, state, national and international levels.
Cultural
Cultural activities- co-curricular activities complement the curricular activities and groom the students in the art of living and working together. Having this perspective, the college conducts various cultural activities to unearth the hidden talents in the students.

A mega inter-collegiate fest 'Cresindo' is organized every year which invites students across the state and a plethora of exciting events which fetches a hoard of prizes including cash prize is a much talked about event in the state of Karnataka. Every year around 150 colleges across the state participate and win several prizes. Students of the college also take part in various inter-collegiate fests organized by other colleges and bring laurels to the college.

Annual cultural week – Cultural Extravaganza is celebrated which embeds various competitions like debate, dance, photography, fashion show, mehendi, rangoli, best manager, personality test, quiz, etc.
INTER-COLLEGIATE MEGA FEST "CRESINDO" 2019 - 20
The two- day annual mega fest "Cresindo" conducted for the 12th consecutive year had a colourful inauguration on 19th Sep 2019. The entire college wore a festive look. 'Ashwamedha' was the theme of this year's "Cresindo".The minute one set foot in the auditorium of the college, one could feel the vibrancy. The students and the staff were dressed in their ethnic best, it set the mood for the celebrations. Celebrities from Kannada film industry Mr. Santhosh Anandram, Mr. Vinayak Joshi and Ms. Nayana Puttaswamy were the guests, Office bearers of Sindhi Management, Sri Madan Doulatram, President, Sri Prakash R Narang, Chairman, Sri Avinash Kukreja, Hon. Secretary, Sri Kishore L Achpal, Hon. Treasurer, Sri. Neelkant R Talreja, Hon. Jt. Secretary, representatives from media, participants from other institutions across Bengaluru city, Prof. Pallavi, Principal of Sindhi PU college, Dr. B.S. Srikanta, Principal, Prof. Asha.N, Vice Principal, staff and students from host college, graced the occasion.

The grand inaugural programme began with a scintillating theme dance drama performance by the students of the college. This was followed by lighting of the lamp, ceremoniously by the guests. The invocation song was followed by welcome address by Mr. Amit Sukhija of II year BBA. Celebrity guests were introduced by the students religiously. Mr. Santhosh Anandram, a popular Kannada film director, recalled his participation in Cresindo four years ago as a student and the glorious memories of the event as well, in his address. Ms. Nayana Puttaswamy, actress, Kannada film industry, was delighted to be a part of the event and wished all the participants to do their best and excel. Mr. Vinayak Joshi, actor, Kannada film industry, expressed his awe at the amount of scholarships given away by the Sindhi Management to the needy and meritorious students and felt glad for being a part of the grand event. Dr. B.S. Srikanta, Principal of the college deliberated on the significance of conducting such a mega event and also narrated the success story of previous years' "Cresindo", to the gathering. Shri. Prakash R Narang, Chairman of the college expressed his happiness at the grandeur and exuberance with which the inaugural programme was organised. Inaugural programme concluded with the vote of thanks proposed by Mr. Nabeel Ahmed, third year BBA student and President, Student Government Council.

Day-1 of the fest witnessed an over-whelming response, more than 100 colleges with more than 1800 enthusiastic participants registered for overall participation and individual events. Many events like Group Dance, Rangoli, Best Accountant, Nail-Art, Corporate Fashion Show, Beat Boxing were flooded with participants. The Day-2 of the fest also witnessed a tremendous response with another 1500 students registering for the events scheduled for the day, with dance, singing and fashion show attracting maximum number of participants. It appeared as though all roads of the city were leading to Sindhi college. There were over 45 events spread over two-day fest. This year's 'Cresindo" broke all the previous records with more than 3000 participants from 175 colleges participating with zeal and enthusiasm. It was a roaring success with accolades from every corner of the city which was telecast on news and print media. The untiring efforts and meticulous planning by the Cultural committee, SGC, student volunteers, Principal, Vice Principal and staff was evident. Presidency college bagged the overall championship trophy. Cash prizes worth more than one lakh, medals and trophies were given away to the winners. The two-day mega and glorious fest concluded with ritualistic drawing of the curtain with the singing of National Anthem.
National Cadet Corps (NCC)
Objectives of NCC
To develop character, comradeship, discipline, a secular outlook, the spirit of adventure and ideals
of selfless services amongst young citizens
To create a pool organized, trained and motivated youth with leadership qualities in all walks of life, who will serve the Nation regardless of which career they choose.
To provide an environment conclusive to motivate young Indians to join the armed forces.
NCC unit is attached to 8 battalion Karnataka and Goa.
National Service Scheme (NSS)
NSS Unit
The main objectives of National Service Scheme (NSS) are:
understand the community in which they work
understand themselves in relation to their community
Identify the needs and problems of the community and involve them in problem-solving
Develop among themselves a sense of social and civic responsibility
Utilise their knowledge in finding practical solutions to individual and community problems
Develop competence required for group-living and sharing of responsibilities
Gain skills in mobilising community participation
Acquire leadership qualities and democratic attitudes
Develop capacity to meet emergencies and natural disasters and
 Practise national integration and social harmony
M.A.Vaidyesh
NSS Programme Officer
Coverage:
Started initially in 37 universities involving 40,000 volunteers, the scheme has grown over the years and it is implemented today with an involvement of more than 2.6 million volunteers spread over in 200 Universities, Polytechnics and +2 Systems. The efforts of NSS volunteers have been widely acclaimed by the community, universities, colleges and general public as the NSS volunteers have been rendering selfless service to the community.
Motto:
The Motto of NSS "Not Me But You", reflects the essence of democratic living and upholds the need for self-less service. NSS helps the students develop appreciation to other person's point of view and also show consideration to '/other living beings. The philosophy of the NSS is well doctrined in this motto, which underlines/on the belief that the welfare .of an individual is ultimately dependent on the welfare of the society on the whole and therefore, the NSS volunteers shall strive for the well-being of the society.
Symbol:
The symbol for the NSS has been based on the giant Rath Wheel of the world famous Konark Sun Temple (The Black Pagoda) situated in Orissa, India. The wheel portrays the cycle of creation, preservation and release and signifies the movement in life across time and space, The symbol thus stands for continuity as well as change and implies the continuous striving of NSS for social change.
Badge
The NSS Symbol is embossed on the badge. The eight bars in the wheel represent the 24 hours of a day. The red colour indicates that the volunteer is full of young blood that is lively, active, energetic and full of high spirit. The navy blue colour indicates the cosmos of which the NSS is tiny part, ready to contribute its share for the welfare of the mankind.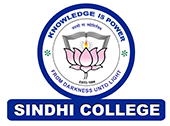 History of College NSS Unit:
The College NSS unit started functioning from the academic year 2013-14. The College was sanctioned half unit to identify fifty volunteer. Though the college was discharging the social responsibilities through SAP (Social Awareness Programme) NSS unit added strengths to this initiative. Ever since the college NSS unit has been rendering the community based services and also imbibes the social responsibilities among students.
Dr. Sundar Raj Urs, Professor and Chairman, Department of Physical Education and Co-coordinator NSS Unit, NSS Bhavan, Bangalore University,
Bangalore was invited to inaugurate the College Unit.
Students Grievance Redressal
Grievance Redressal cell is an integral part of the college. To maintain a harmonious atmosphere and to build positive approach in students, this cell is constituted. Students' grievances, if any, are redressed by the committee. The committee is chaired by the Principal and ably supported by the faculties, who are the members. 
Mechanism of Grievance Redressal
Redressal of Student Grievances the following steps are followed
Students are free to lodge a complaint/ bring into the notice of the coordinator of the Grievance Redressal Committee
Meeting of the Committee will be held & Grievance discussed
Appropriate action will be taken as per the seriousness of the Grievance.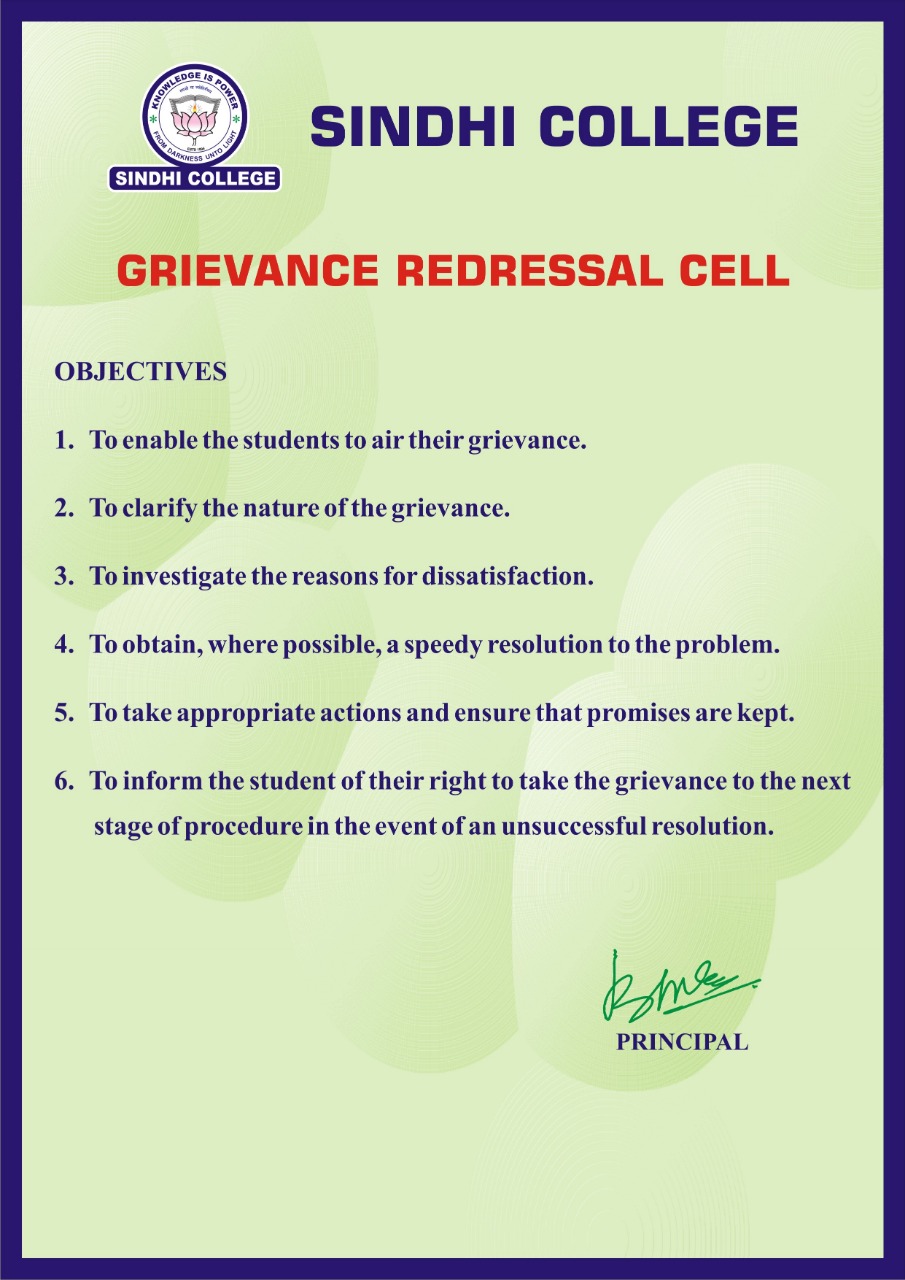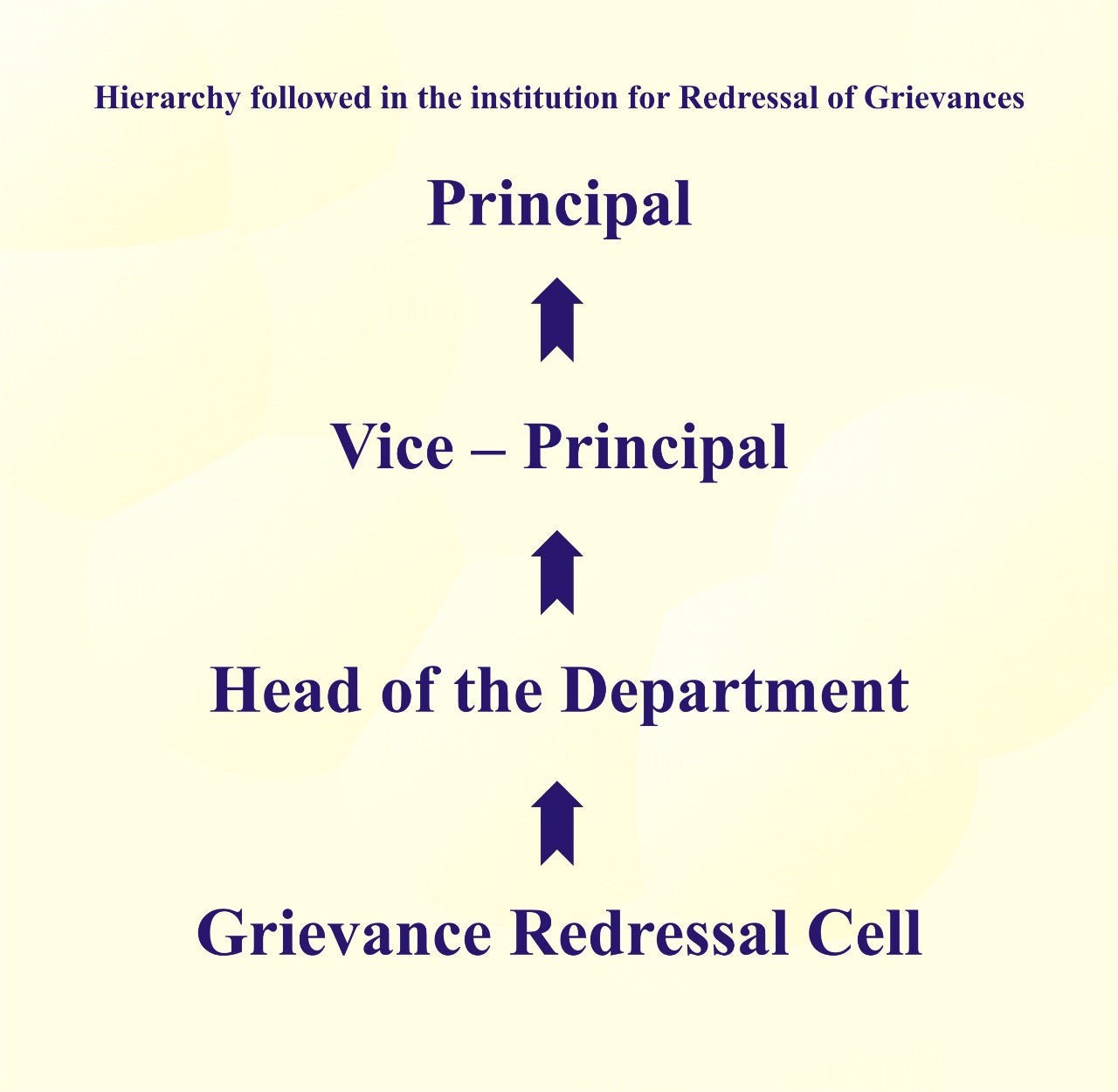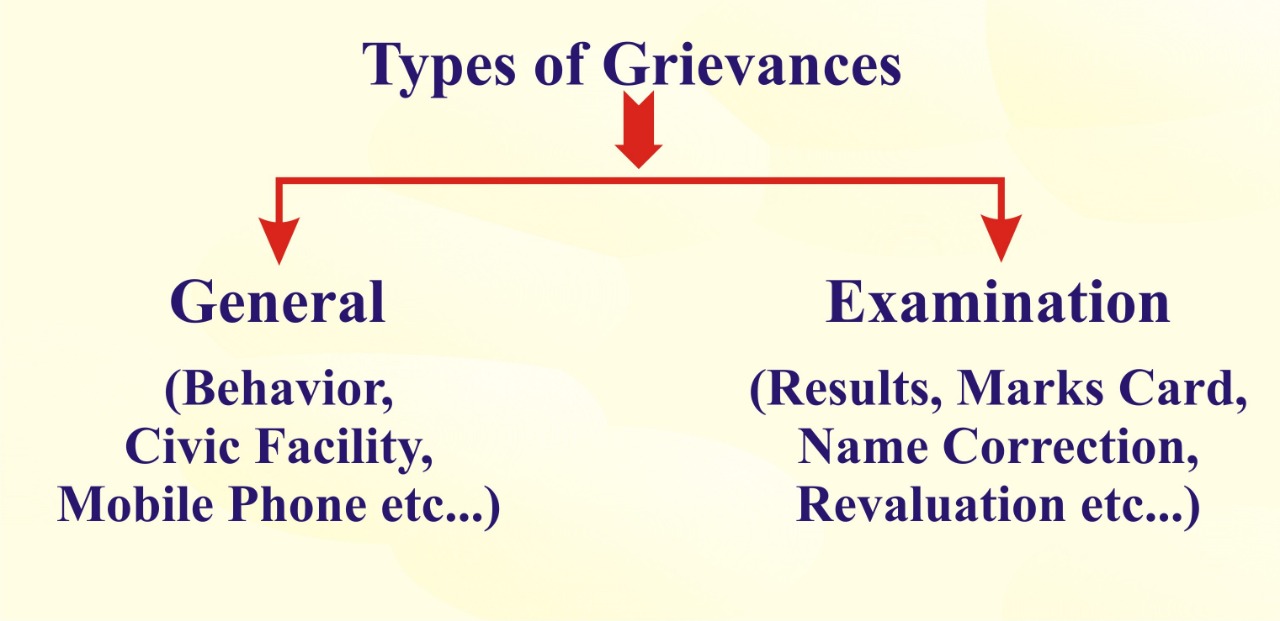 Grievances Redressal Cell(Online Submission)
The Grievance Redressal Cell attempts to address genuine problems and complaints of students whatever be the nature of the problem.
[ "*" Mandatory Fields ]
Students may also express their grievances online by filling out the form below.
Mentor System
The Mentor System is practised in the college. Each teacher would mentor a group of 30 to 40 students by providing guidance and also encourage students to perform exceedingly well in academics. Marks secured in each semester are compared and measures are suggested for improvements.
DEPARTMENT OF COMMERCE MENTORS LIST 2020-21
| | | | |
| --- | --- | --- | --- |
| 1 | Ms.Mamatha | V Sem B.Com A | 40 |
| 2 | Ms.Ramya | V Sem B.Com A | 37 |
| 3 | Prof.Nagarathna | V Sem BCOM B | 40 |
| 4 | Prof.Subramanya | V Sem BCOM B | 25 |
| 5 | Prof. Sri Hari V. | V Sem BCOM C | 40 |
| 6 | Mr.Kumar E | V Sem BCOM C | 40 |
| 7 | Ms.Grace J | III Sem BCOM A | 35 |
| 8 | Ms.Savitha | III Sem BCOM A | 35 |
| 9 | Dr.Giriraj Kumar | III Sem BCOM B | 35 |
| 10 | Prof.Chittibabu | III Sem BCOM B | 35 |
| 11 | Ms.Raji | III Sem BCOM C | 35 |
| 12 | Ms.Nalini | III Sem BCOM C | 35 |
| 13 | Prof. Raju H.S | I Sem B.Com A | 40 |
| 14 | Ms. Rubina | I Sem B.Com A | 40 |
| 15 | Ms. Prathima | I Sem B.Com B | 40 |
| 16 | Prof. Putul Dutta | 1 Sem B.Com B | 40 |
| 17 | Prof.Jayashree Tambad (LSCM) | 1 Sem B.Com A | 16 |
| 18 | Prof.Subramanya | 1 Sem BCOM B | 24 |
Department of Computer Science Mentors List -2020-21
| | | | |
| --- | --- | --- | --- |
| 1 | E.K.Radhika | I yr BCA | 30 |
| 2 | Hemalatha R | III yr BCA | 50 |
| 3 | Priya Hari | I yr BCA | 50 |
| 4 | Kalaivani | III yr BCA & II yr BCA - A | 28 + 15 = 43 |
| 5 | Akilandeswari | II yr BCA - A & II yr BSc & III yr BSc | 20 + 15 + 15 = 50 |
| 6 | Putul | II yr BCA - B & I yr BSc & II yr BCA - A | 20 +10+ 25 = 55 |
| 7 | Nalini Purushothama | II yr BCA - B | 20 |
Department Of Management MENTORS LIST Academic Year 2020-2021
Sl. No
Name of the Mentor
CLASS
1
Ms.Shashikala.U
Dr.Ranjana Pillai
III BBA
2
Mr.Vaidyesh.M.A
Mr.Srinidhi.V
II BBA
3
Ms.Nandini.S
Dr.Kariyanna.S
I BBA
4
Dr.Roopa Anagod
II BBAM
5
Mr.Srinidhi.V
I BBAM