Student Governing Council
To nurture leadership skills in students, at the beginning of every academic year, student leaders are nominated by HODs and class teachers to form Student Government Council. These student leaders are bestowed with designations as president, vice president, cultural secretary, etc. to lead and represent others. Apart from this, there are also different houses and all the students of the college belong to one or the other house. Each house has nominated house captain and vice-captain. Investiture ceremony is observed to bestow offices to these nominated leaders. During college programmes all these selected leaders work as a team.
SINDHI COLLEGE STUDENTS' GOVERNING COUNCIL 2023 - 24
---
Sl. No.
Post
Name
1
President
Riddhi Pamnani
2
Vice - President
Sanjay.T
3
Cultural Secretary -Boys
Saksham
4
Cultural Secretary -Girls
Monisha.R
5
Sports Secretary- Boys
Munish Reddy
6
Sports Secretary- Girls
Shalini S
7
General Secretary
Gaurav S Jain
8
General Secretary
Sharon Anand
9
Deputy Secretary
Siddharth.R.Gowda
10
Deputy Secretary
Ravi Shankar.M
11
Deputy Secretary For Pg
N. Bhagyashree
12
Joint Secretary
Kishan.D
13
Joint Secretary
Maan Kutti.G
14
Joint Secretary
Sarika.T
15
Joint Secretary
Saaksshi Ishwar Benni
16
Discipline Secretary
Priyanka M Rajdev
17
Discipline Secretary
Syed Rayan
18
Discipline Secretary
Sathish.A
19
Discipline Secretary
V. Shruthi Saranya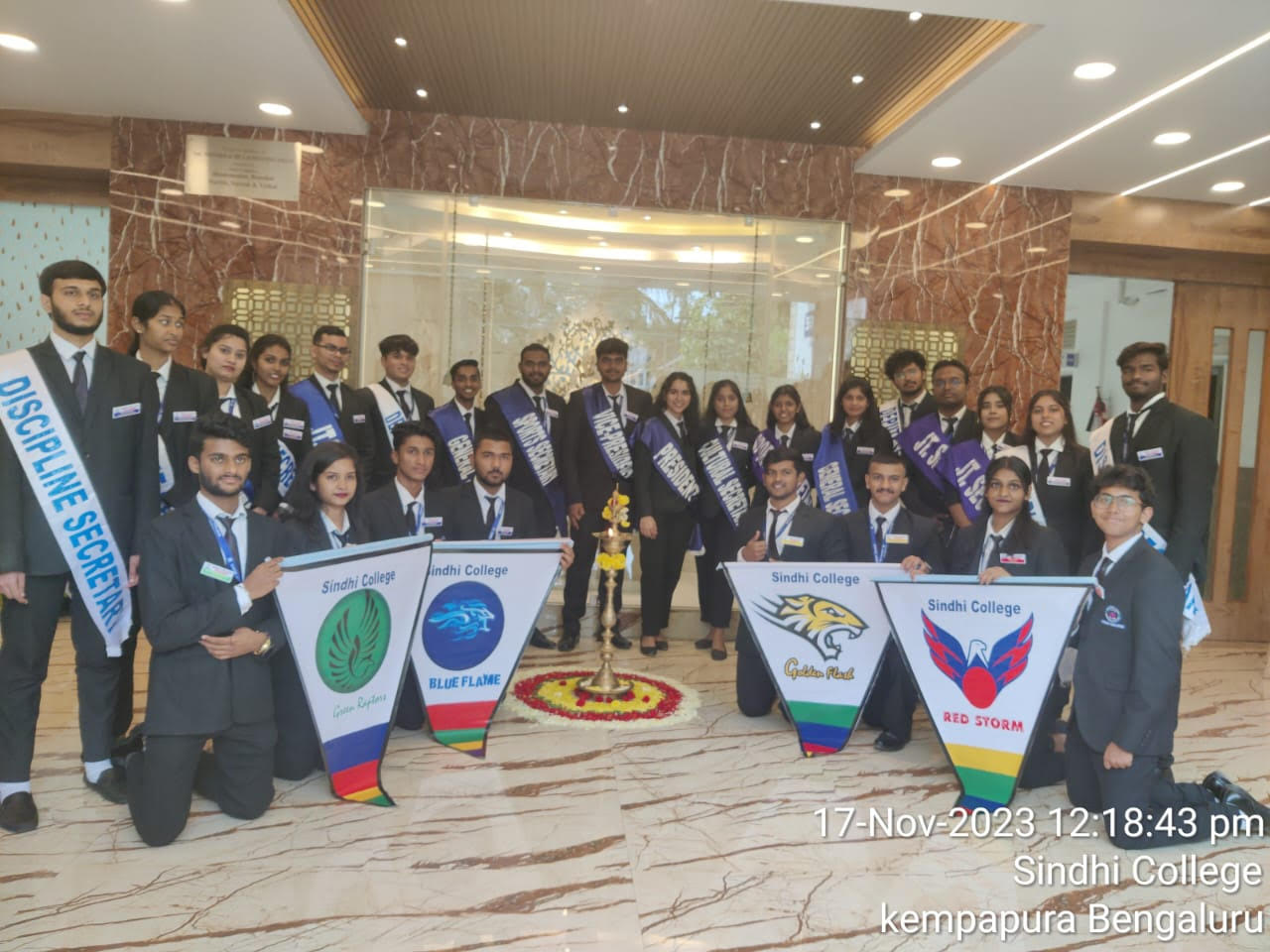 HOUSE CAPTAINS & VICE - CAPTAINS
RED STORMS
| | |
| --- | --- |
| CAPTAIN | Pooja.K |
| VICE - CAPTAIN | Srikumar Mohandasan |
BLUE FLAMES
| | |
| --- | --- |
| CAPTAIN | Sahil Kumar |
| VICE - CAPTAIN | Abu Bashar Mj |
GOLDEN FLASH
| | |
| --- | --- |
| CAPTAIN | Punith Kumar. M |
| VICE - CAPTAIN | Meeth P Sapariya |
GREEN RAPTORS
| | |
| --- | --- |
| CAPTAIN | Poornima. S |
| VICE - CAPTAIN | Sai Sankalp Reddy |
SINDHI COLLEGE STUDENTS' GOVERNING COUNCIL 2022 - 23
---
| Sl. No. | Post | Name | Class |
| --- | --- | --- | --- |
| 1 | President | Bhargav H C | III Year BA |
| 2 | Vice - President | Hari Haran R U | III Year Sem B.Com |
| 3 | Cultural Secretary | Chandan M B | III Year Sem B.Com |
| | | Keerthana S | III Year Sem B.Com |
| 4 | Sports Secretary | Darshan | III Year Sem B.Com |
| | | Poojitha | III Year BCA |
| 5 | General Secretary | Raju A | III Year BCA |
| | | Afifa Saher | III Year BCA |
| 6 | Joint Secretary | Krishna Darshan | III Year BBA |
| | | Sathvik Bhatt M.S | III Year Sem B.Com |
| | | Riddhi Pamnani | Ii Year BBA |
| | | Ramya R | III Year BCA |
| 7 | Discipline Secretary | Siddesh Kulkarni | III Year Sem B.Com |
| | | Adesh Sagar Srinivas | III Year BCA |
| | | Shalini S | Ii Year BCA |
| | | Sanjay | Ii Year B.Com |
| 8 | Deputy Secretary | Lokesh V | III Year Sem B.Com |
| | | Levitha P Kamble | III Year Sem B.Com |
| 9 | Deputy Secretary For PG | Manoj Kumar R | M.Com (FA) |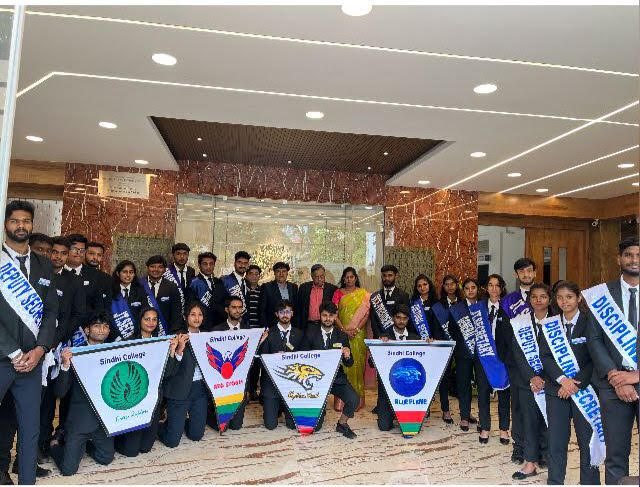 HOUSE CAPTAINS & VICE - CAPTAINS
GOLDEN FLASH
| | | |
| --- | --- | --- |
| CAPTAIN | Kishore S | III Year B.Com |
| VICE - CAPTAIN | Rohith Chennali | I Year B.Com |
BLUE FLAMES
| | | |
| --- | --- | --- |
| CAPTAIN | Naveen Kumar S | III Year B.Sc |
| VICE - CAPTAIN | Saaksshi Ishwar Benni | I Year BBA |
RED STORMS
| | | |
| --- | --- | --- |
| CAPTAIN | Rohit Dubey | III Year B.Com |
| VICE - CAPTAIN | K J Shriyanshi | I Year B.Com |
GREEN RAPTORS
CAPTAIN
Pranav Vijay
III Year B.Com
VICE - CAPTAIN
Bansitha Sahu
I Year BCA
---
SINDHI COLLEGE STUDENTS' GOVERNING COUNCIL 2021 - 22
---
Sl. No.
Post
Name
1
President
Gourrank Pamnani
2
Vice - President
Aswin Sinoj
3
General Secretary
Arun K
4
General Secretary
Dincy Dechamma
5
Cultural Secretary
Nandana K
6
Cultural Secretary
Naveen Koravi
7
Sports Secretary
Abhishek Boipai
8
Sports Secretary
Sneha K C
9
Joint Secretary
Syed Abdullah
10
Joint Secretary
Bhargav H C
11
Discipline Secretary
Sujith Kumar R
12
Discipline Secretary
Nithu Kumari
13
Discipline Secretary
Hariharan
14
Deputy Secretary
Thomson P
15
Deputy Secretary
Sri Sanjana
16
Deputy Secretary for PG
Suhas Bhaskar
17
Captain - Blue Flames
Monisha R
18
Vice Captain - Blue Flames
Raju A
19
Captain - Green Raptors
Anil G
20
Vice Captain - Green Raptors
Prajwal K R
21
Captain - Golden Flashes
Keerthi KC
22
Vice Captain - Golden Flashes
Ankith Kumar Pandey
23
Captain - Red Storms
Darshan S
24
Vice Captain - Red Storms
Akshit Dhanajayan
SINDHI COLLEGE STUDENTS' GOVERNING COUNCIL 2020 - 21
---
Sl. No.
Post
Name
Class
1
PRESIDENT
CHITHKALA BHAT
5th Sem B.Com
2
VICE - PRESIDENT
SRILEKHA DESHPANDE
5th Sem BA
3
CULTURAL
SECRETARY
CHETHAN KUMAR S BINDU R
5th Sem B.Sc3rd Sem BCA
4
SPORTS
SECRETARY
CHETHAN S SNEHA K C
5th Sem BCA3rd Sem B.Com
5
GENERAL
SECRETARY
KHUSHAL G AROMA THARWANI
5th Sem BBA 5th Sem B.Com
6
JOINT
SECRETARY
CHANDAN VINITHA ASWIN SINOJSUMAN JHA
5th Sem BBA 5th Sem B.Com3rd Sem BBA (Aviation)3rd Sem B.Com
7
DISCIPLINE
SECRETARY
SANJAY KUMAR RAMYA D UMd. HAMEED SHARIFFJAYALAKSHMI BAI
5th Sem BBA5th Sem BCA5th Sem BBA3rd Sem BBA
8
DEPUTY
SECRETARY for PG
KOPAL SAI TEJA
3rd Sem M.Com (FA)
Sl. No.
Post
Name
Class
1
PRESIDENT
CHITHKALA BHAT
5th Sem B.Com
2
VICE - PRESIDENT
SRILEKHA DESHPANDE
5th Sem BA
3
CULTURAL
SECRETARY
CHETHAN KUMAR S BINDU R
5th Sem B.Sc3rd Sem BCA
4
SPORTS
SECRETARY
CHETHAN S SNEHA K C
5th Sem BCA3rd Sem B.Com
5
GENERAL
SECRETARY
KHUSHAL G AROMA THARWANI
5th Sem BBA 5th Sem B.Com
6
JOINT
SECRETARY
CHANDAN VINITHA ASWIN SINOJSUMAN JHA
5th Sem BBA 5th Sem B.Com3rd Sem BBA (Aviation)3rd Sem B.Com
7
DISCIPLINE
SECRETARY
SANJAY KUMAR RAMYA D UMd. HAMEED SHARIFFJAYALAKSHMI BAI
5th Sem BBA5th Sem BCA5th Sem BBA3rd Sem BBA
8
DEPUTY
SECRETARY for PG
KOPAL SAI TEJA
3rd Sem M.Com (FA)
HOUSE CAPTAINS & VICE - CAPTAINS
---
GOLDEN FLASH
| | | |
| --- | --- | --- |
| CAPTAIN | GABIR AHMED SALIH | 5th Sem BCA |
| VICE - CAPTAIN | SRI SANJANA | 3rd Sem BBA |
BLUE FLAMES
| | | |
| --- | --- | --- |
| CAPTAIN | DINCY DECHAMMA M M | 3rd Sem B.Com |
| VICE - CAPTAIN | NEETU | 1st Sem BBA(Aviation) |
RED STORMS
| | | |
| --- | --- | --- |
| CAPTAIN | BINDUSHREE | 5th Sem B.Com |
| VICE - CAPTAIN | HARI HARAN | 1st Sem B.Com |
GREEN RAPTORS
CAPTAIN
THOMSON
3rd Sem B.Com
VICE - CAPTAIN
BHARGAV
1st Sem BA
SINDHI COLLEGE STUDENTS' GOVERNING COUNCIL 2019 - 20
Sl. No.
Post
Name
Class
1
PRESIDENT
Nabil Ahmed Siraj
III BBA
2
VICE - PRESIDENT
Akash Anand Khandari
12
3
CULTURAL

SECRETARY
Jagdish N Pai

Chithkala bhat
III BBA

II B.COM
4
SPORTS

SECRETARY
Hemanth kumar P K

Srilekha Deshpande
III BBA

II BA
5
GENERAL

SECRETARY
Shushank kumar

Sucheta K N
III B.COM

III B.COM
6
JOINT

SECRETARY
Saqlain khan

Sanjana Vallabha G

Haripriya K

Kushal G
III B.COM

III B.COM

III B.COM

II BBA
7
DEPUTY

SECRETARY
Bharath choudhary

Chandan B Reddy
III B.COM

III B.COM
8
DISCIPLINE

SECRETARY
Rajshekar S

Tejas V

Aroma tharwani

Aliya sharriff
III B.COM

III BBA

II B.COM

II B.COM
HOUSE CAPTAINS & VICE - CAPTAINS
GOLDEN FLASH
| | | |
| --- | --- | --- |
| CAPTAIN | Kalyan Kumar | III B.COM |
| VICE - CAPTAIN | Jayalakshmi | I BBA |
BLUE FLAMES
| | | |
| --- | --- | --- |
| CAPTAIN | Chandan | II BBA |
| VICE - CAPTAIN | Gourrank Pamnani | I B.COM |
RED STORMS
| | | |
| --- | --- | --- |
| CAPTAIN | Chethan Kumar S | II BSC |
| VICE - CAPTAIN | Shreyank | I BCA |
GREEN RAPTORS
CAPTAIN
Amarjith singh
III BBA
VICE - CAPTAIN
AbhiRam
I BBAM
Scholarships
Sindhi Seva Samiti which sponsors Sindhi group of Institutions is benevolent in extending scholarships to meritorious, sports achievers and under privileged students annually. Students belonging to these categories are identified and scholarships disbursed according to the merit and need. Scholarships are given to the following categories of students.
Meritorious Students
Sports Category
Children of Teachers
Children of Defence Personnel
Students belonging to Economically Weaker Section
Women Empowerment Cell & Anti-Sexual Harassment Cell
The cell is formed with the aim of creating awareness of women's rights and duties. It is a platform for girl students to share views and experiences regarding their status in the society and gender related issues.
To empower women by motivating them to learn self-defense practices etc.
To conduct self-defense courses like karate and others.
To motivate and give support to the girl students how to face the consequences in the working environment.
To arrange seminars and Guest Lectures on subjects related to gender issues.
To develop and implement a policy against sexual harassment.
To evolve an effective mechanism for prevention, prohibition andredressal of cases related to sexual harassment.
To promote an environment that will raise awareness about anddeter acts of sexual harassment of students.
To generate awareness about the mechanism of redressal of sexualharassment related issues among students.
To empower students and generate an environment free fromsexual harassment of any nature.
To uphold commitment of the Institution to provide an environment that is free from discrimination and violence or any kind of psychological trauma to women in relation to sexual harassment.
To conduct programmes and workshops that create awareness relating to sexual harassment.
To communicate good values and uphold them in solving issues related to sexual harassment.
Mechanism for redressal of sexual harassment
Complaints of sexual harassment shall be lodged with the committee / class teacher / HOD / Vice Principal/ Principal. Such complaints should be taken up by the committee for resolution through mediation, conciliation and enquiry.
The complaints should be made in writing. If the complaint is not able to give in writing himself/ herself, the complaint can be given in writing or his / her behalf by his/ her companion.
The complainant is at liberty to withdraw the complaint at any stage of enquiry, provided such withdrawal is made independently and under free will. The enquiry may be terminated on receipt of the request for such withdrawal.
The committee is empowered to terminate the enquiry proceeding and to give ex-parte decision on the complaint on valid grounds. It shall submit a detailed report communicating its findings based in its investigations. The committee shall pronounce its verdict whether the accused is / are guilty or not guilty. The committee in case in which the accused is / are found guilty, should indicate the gravity of the offence, whether it is major, serious or minor.
The complainants/s and the accused shall be given reasonable opportunity to present and defend their cases. Witness may be called if deemed necessary. In case the accused fail/s to attend consecutively for three hearings despite call notices for the same, the enquiry may be terminated and the decision taken on the complaint on ex-prate basis.
Counselling services may be made available to the victims and the accused on request.
If the complainant the accused and the witnesses desire to be accompanied by a companion of their choice, they may be permitted to do so, provided the person so chosen will have only observer status and shall leave the meeting after making his/ her testimony.
The complainant and the accused shall have the right of cross examination of all witnesses.
The enquiry committee shall have the right to disallow questions from the victim or the accused, if the questions are deemed irrelevant and unnecessary.
All persons heard by the enquiry committee as well as observes shall take and observe an oath of secrecy about the proceedings.
Regressive disciplinary action: committee would pass on the findings of the enquiry committee to the Honourable Chairman, for taking appropriate regressive action. If the chairman finds that, there Is requirement for further investigation and he may order for review of the report by the enquiry committee and may even refer the case to competent legal authority, if it is grave nature.
Women Empowerment Cell
Chairman : Dr.B.S.Srikanta, Principal Convenor : Ms.E.K.Radhika, HOD Dept. of Computer Science
Anti-Sexual Harassment Cell
Chairman : Dr.B.S.Srikanta, Principal Convenor : Convenor : Ms.Shashikala, HOD, Dept. of Management
Members
Ms.E.K.Radhika, HOD, Dept. of Computer Science
Ms.Jayashree, HOD, Dept. of Commerce
Ms.Kalaivani, Dept. of Computer Science
Ms.Nandini.S, Asst. HOD, Dept. of Management
Human Rights Cell
HUMAN RIGHTS are based on dignity, equality and mutual respect – regardless of your nationality, your religion or your beliefs.
HUMAN RIGHTS are the rights all human beings have by virtue of being human beings.
HUMAN RIGHTS are derived from the inherent dignity of the human person and are defined internationally, nationally and locally by various law making bodies.
There are six Human Rights guaranteed by Indian Constitution, they are
Right to Equality (Articles. 14-18)
Right to Freedom  (Articles. 19-22)
Right against Exploitation  (Articles. 23-24)
Right to Freedom of Religion (Articles. 25-28)
Cultural and Educational Rights (Articles. 29-30
Right to Constitutional Remedies (Articles. 32-35)
Purpose of establishing the Cell :
The fundamental rights were included in the constitution because they were considered essential for the development of the personality of every individual and to preserve human dignity. The writers of the constitution regarded democracy of no avail if civil liberties, like freedom of speech and religion, were not recognized and protected by the State. According to them, democracy is, in essence, a government by opinion and therefore, the means of formulating public opinion should be secured to the people of a democratic nation. For this purpose, the constitution guaranteed to all the citizens of India the freedom of speech and expression and various other freedoms in the form of the fundamental rights. Having these perspectives, the institution formulated Human Rights Cell (Fundamental Rights) on 4th February 2019.
Aim : To expedite and empower the people to enjoy human rights in each and every walk of life
Objectives of the Cell :
To ensure and protect human rights
To enhance awareness and knowledge among the people in and around the college by organizing various awareness programmes
Academics
Sindhi Research cell of the college encourages students to pursue research by taking up minor projects during vacation. Teachers guide these students in the area of their interest and thus nurture research culture amongst the students. Financial aid is also extended for data collection and other expenses incurred in the course of doing research.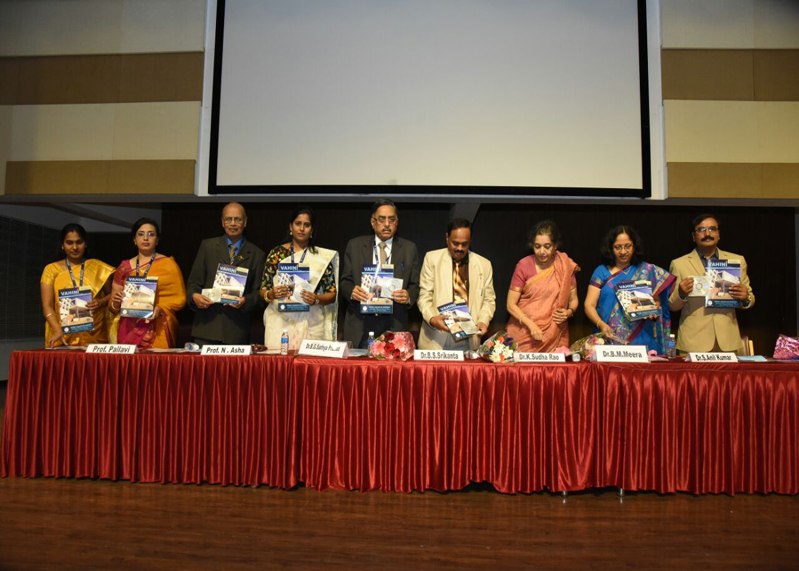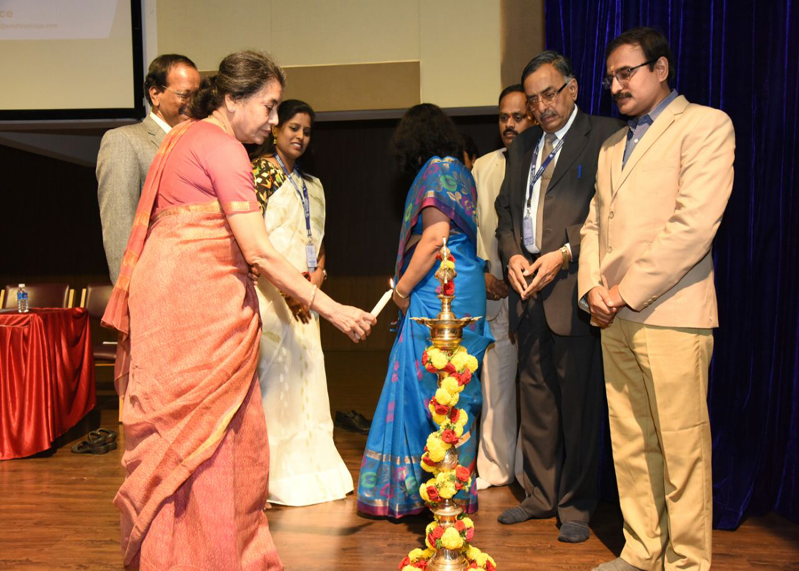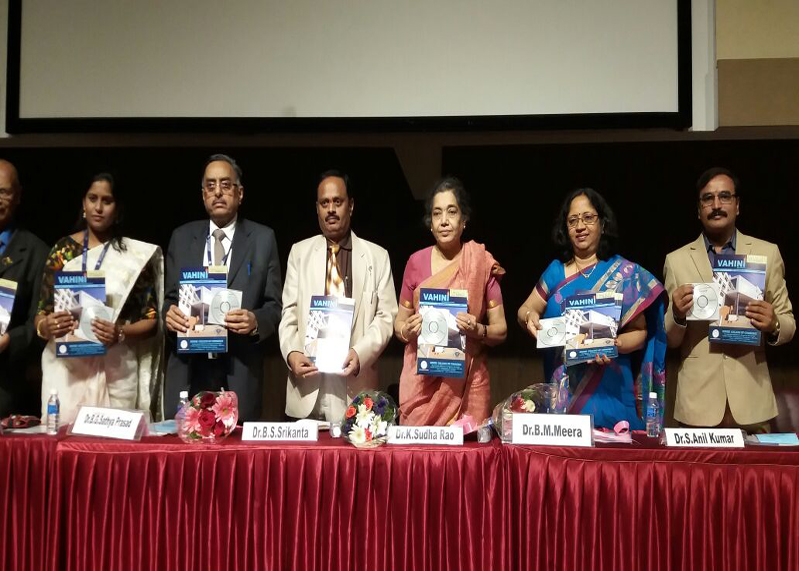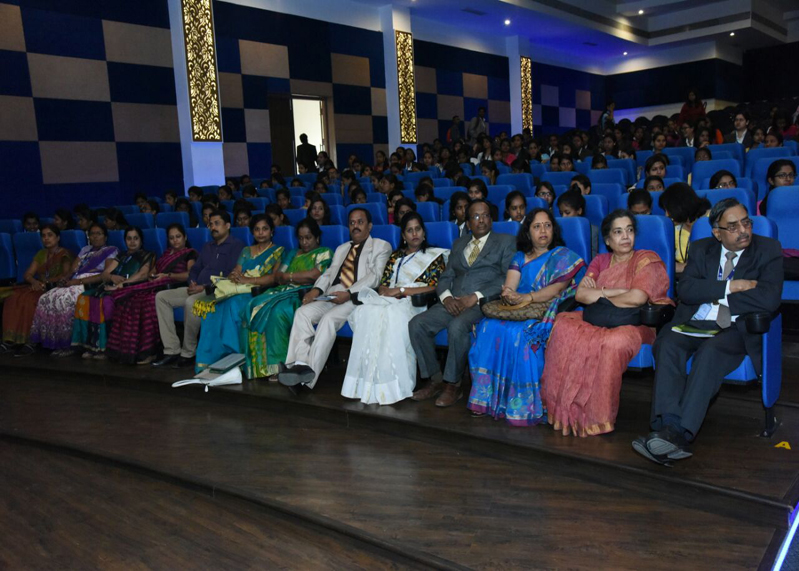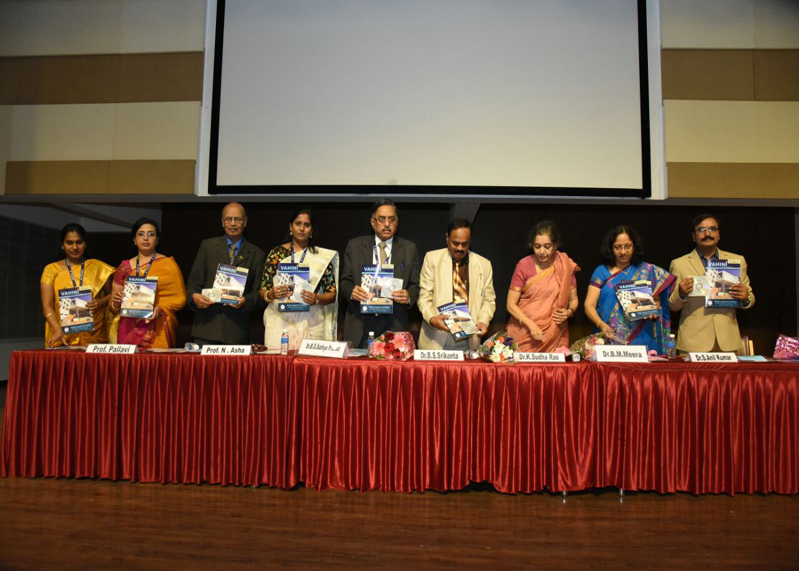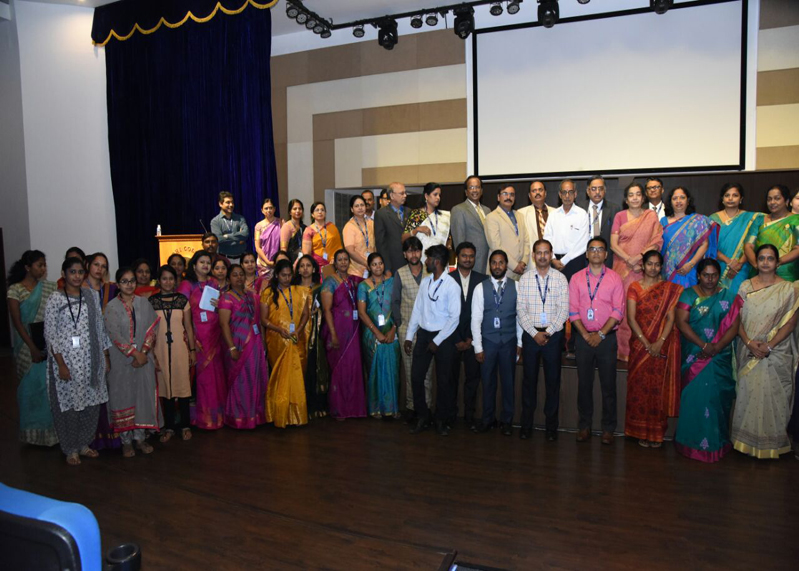 Sports
Sports is of paramount importance to the students personality development. It provides plethora of benefits to students; improves quality of life, sharpens mind, etc. If this is turned into expertise, then it can even lead to avenues for developing a career.

Students are encouraged to participate in sports at college, inter - collegiate, university, state, national and international levels.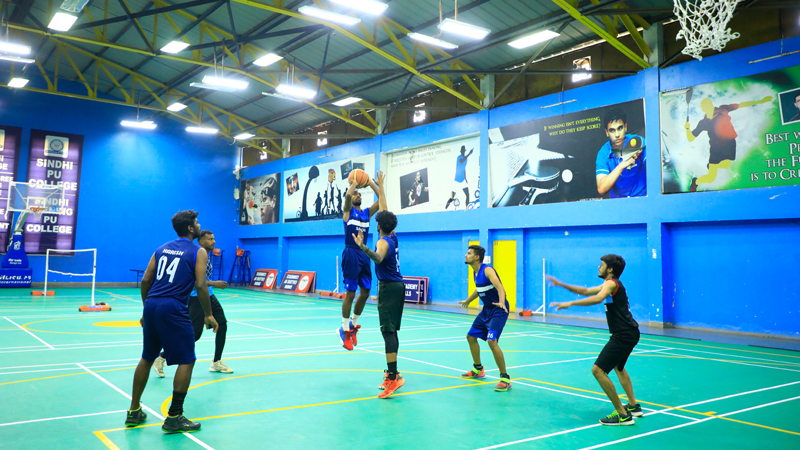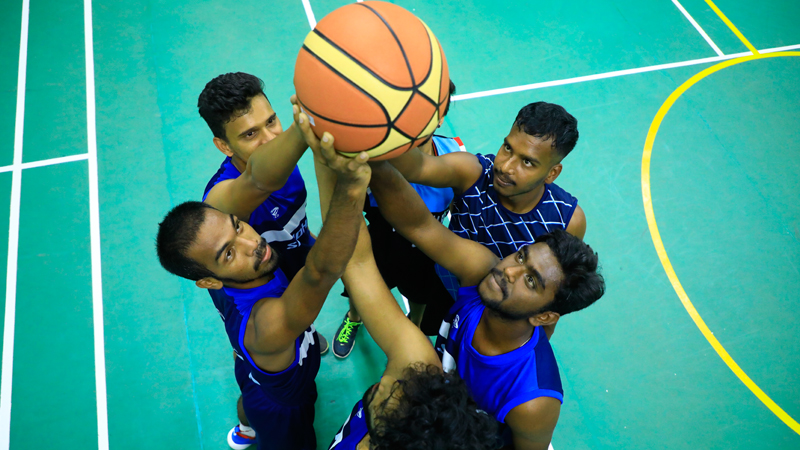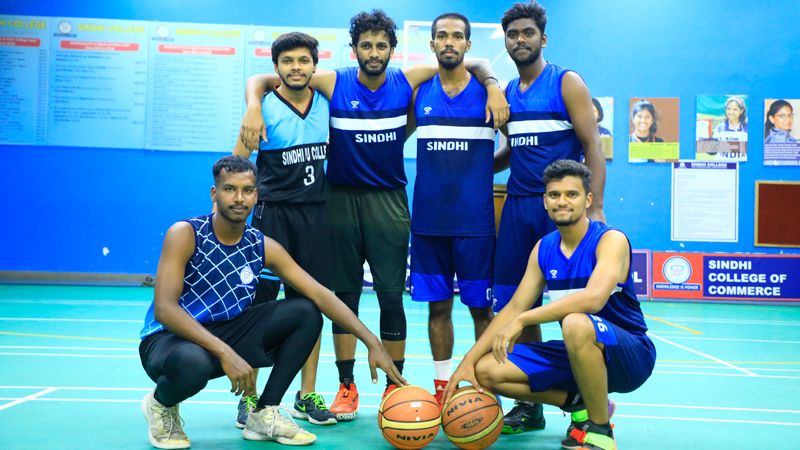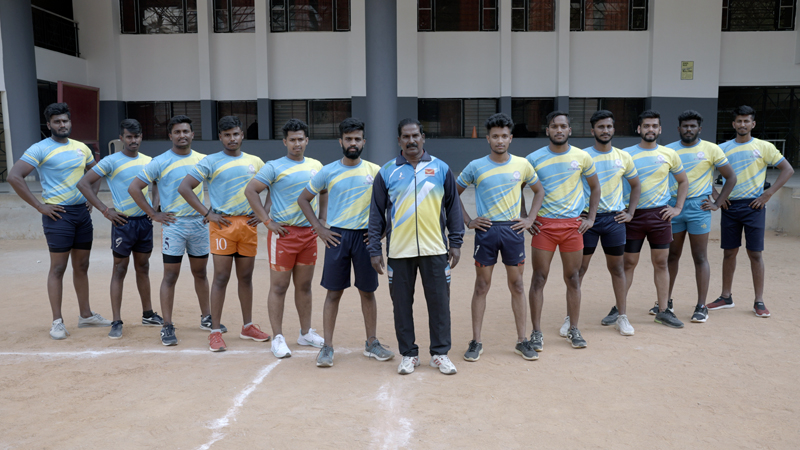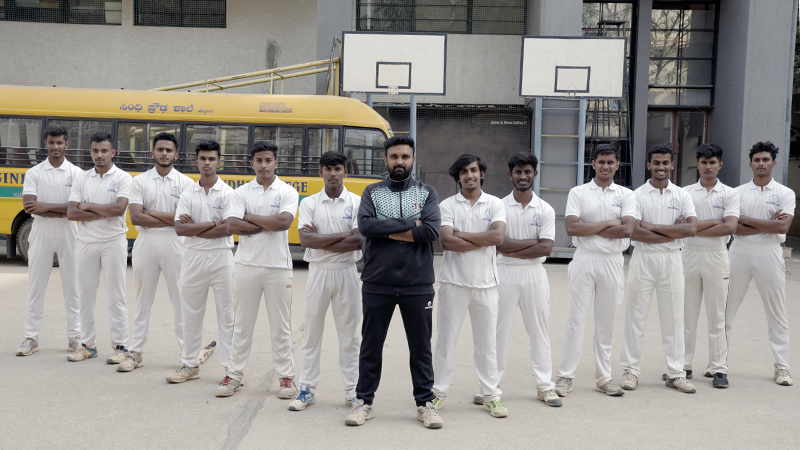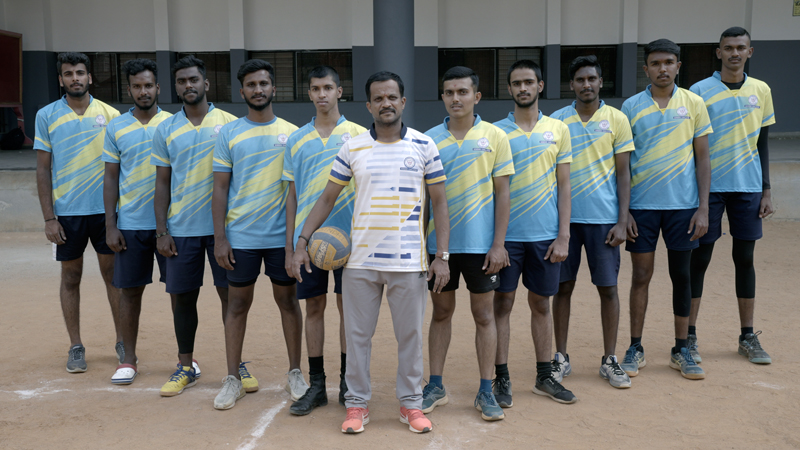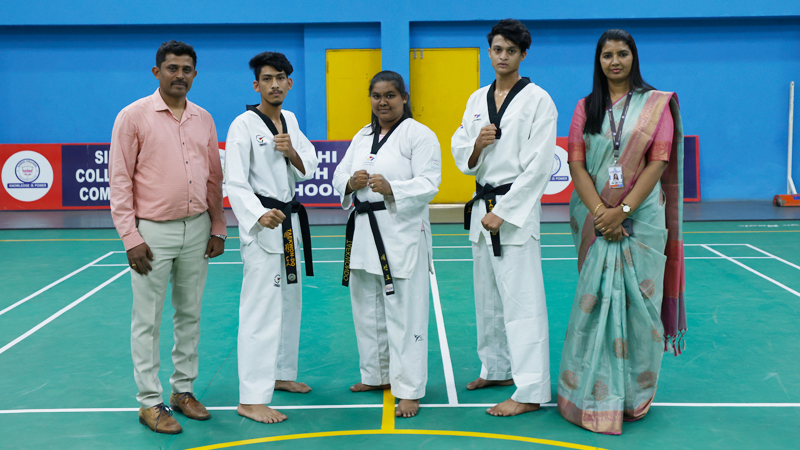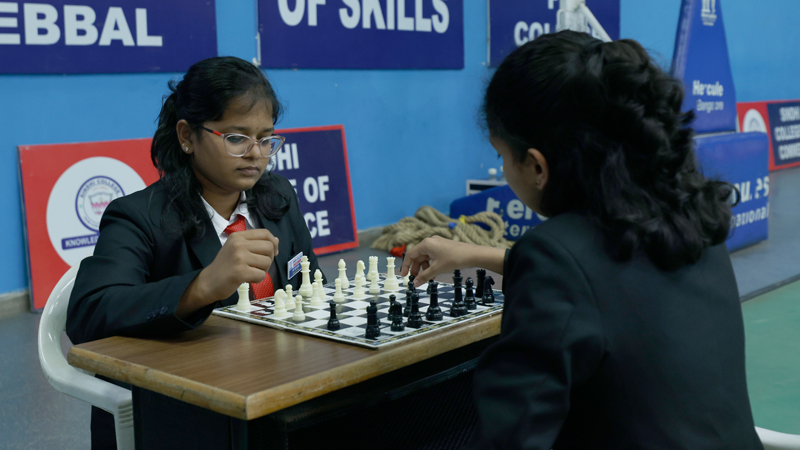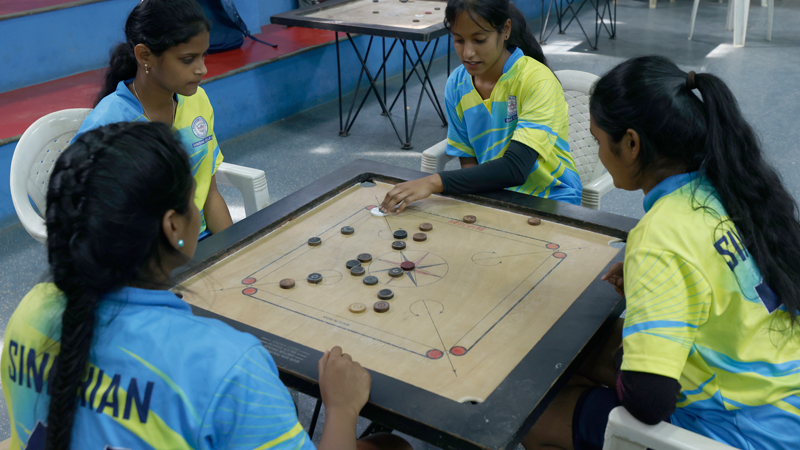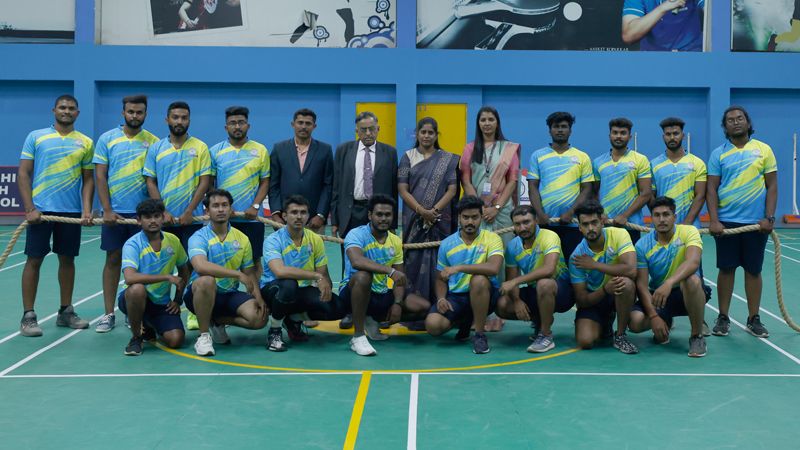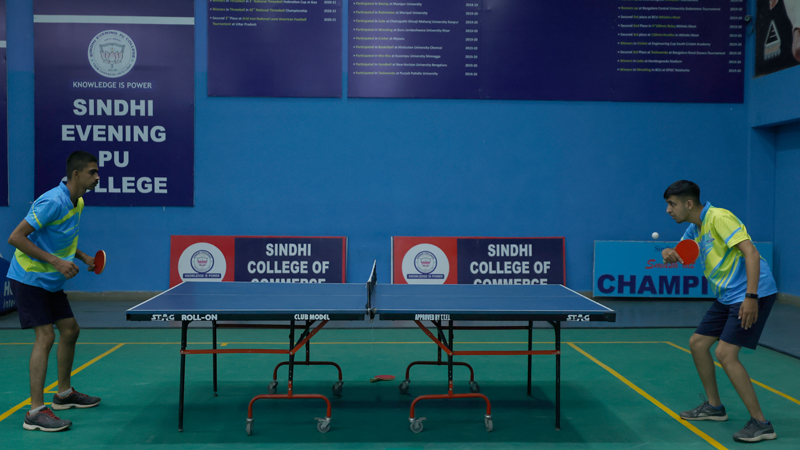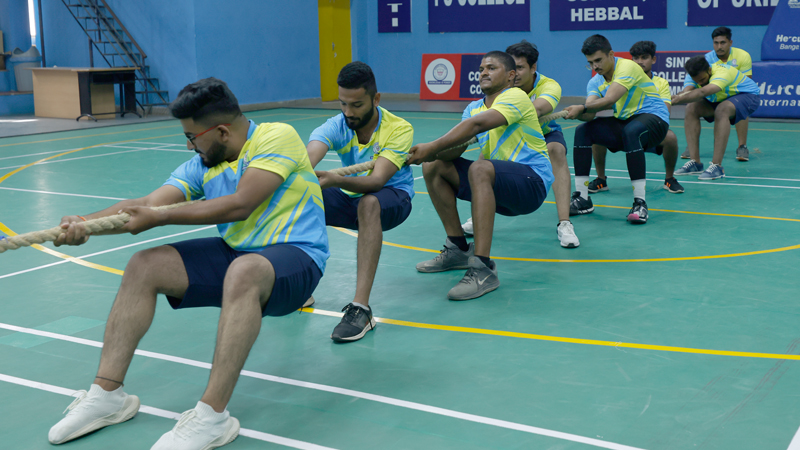 Cultural
Cultural activities- co-curricular activities complement the curricular activities and groom the students in the art of living and working together. Having this perspective, the college conducts various cultural activities to unearth the hidden talents in the students.

A mega inter-collegiate fest 'Cresindo' is organized every year which invites students across the state and a plethora of exciting events which fetches a hoard of prizes including cash prize is a much talked about event in the state of Karnataka. Every year around 150 colleges across the state participate and win several prizes. Students of the college also take part in various inter-collegiate fests organized by other colleges and bring laurels to the college.
Annual cultural week – Cultural Extravaganza is celebrated which embeds various competitions like debate, dance, photography, fashion show, mehendi, rangoli, best manager, personality test, quiz, etc.
INTER-COLLEGIATE MEGA FEST "CRESINDO 2022"
Sindhi college being one of the premier educational institutions, providing a harbour for students to grow and develop holistically and consistently progressing towards innovation and upgradation in the field of education for over two glorious decades in the heart of Bengaluru, has organized a mega inter-collegiate cultural fest "CRESINDO" themed "Ecstacy" on 20, 21 and 22 July 2022, with approximately 1500+ registered participants from around 250+ colleges across Bengaluru. With the inception of 'Cresindo' for more than a decade, the fest aims to bring together a plethora of students from various educational institutions across Bengaluru, providing them a platform to showcase their hidden skills and talents and help them achieve excellence in the cultural domain through healthy artistic and intellectual interaction and competition among students. 'Cresindo 2022' was inaugurated by the chief guest Padma Sri Manjamma Jogati, a recipient of Padmashree Award, and President of Karnataka Jaanapada Academy, and the guest of honour Sri. Umapathi, Film Producer, Sandalwood and Sri. Madan Doulatram, President, Sindhi Seva Samithi. Padma Sri Manjamma Jogati in her address to the gathering said that she was excited to be a part of the event of this magnitude and shared a glimpse of her life of how she overcame struggles during her growing years. She mentioned that although she never entered a college to study, yet her 'art of folklore' has been traveling all over the universities throughout Karnataka, and her biography is a part of the educational curriculum for degree students. As much as she gives prominence to higher education she also encourages the students to go beyond their curriculum and learn the very essence of life. She quoted that "Work is Worship" and that all of us need to respect whatever work we do. While advising the students to honour their parents, she mentioned how her mother was a great source of emotional support in her life and remembered her mother blessing her saying "May you be a blessing wherever you set your foot on." She also insisted on never leaving one's identity, culture, tradition and language as they build the very essence of who we are and where we come from. She stated "Kannada must grow" and that the culture and tradition must be preserved. However, she also stated that no language is inferior to another and that every language has its own identity. Speaking of identity, she urged the audience never to humiliate or insult people who belong to the third gender. She emphasized on building a support system and giving the much needed education for them, transforming them into significant members of our society. In concluding her speech, she mentioned of how Sindhi College has taken a lot of efforts to build the institution so far so as to host a mega event of this magnitude and wished the very best for the smooth running of 'Cresindo 2022.' This was followed by Sri. Umapathi, film producer, the guest of honour who addressed the gathering by saying "God doesn't give opportunities to everyone, sometimes we should create opportunities for ourselves" This was truly an enlightening speech for the students as he also stated that not everyone is born smart but over the years one need to continuously groom oneself to be smart and successful. Concluding his speech, he thanked the institution for the opportunity given to him to witness the vibrant atmosphere of the college and wished good luck for the event. The inauguration was then presided over by Sri. Madan Doulatram, who expressed his gratitude to the esteemed dignitaries and concluded the program. The event had the presence of the Executives of Sindhi Board of Management such as Sri. Prakash R Narang(Chairman), Sri Kishore L. Achpal(Hon. Secretary), Sri. Navin K Nichani(Hon. Treasurer), Sri. Suraj S Chawla(Hon. Jt. Secretary) Dr. B S Srikanta(Director), Prof. Asha N(Principal), the teaching staff, non-teaching staff, and a plethora of students for whom the platform was set open to stage their skills and talents for the day. There was a unique observance of reminiscing Karnataka Ratna Dr. Puneeth Rajkumar with a vertical banner release from the esteemed dignitaries in the college quadrangle which got a huge applaud from the students. It paved a great tribute for the most celebrated actor. The day ended with great participation of students in different events such as Solo Singing, Tug of war , Duet Dance, Instagram Reels Competition, Debate (Kannada & English), Mad Ads, Painting and Sketching & the Fashion Show
Day 2.
Day two witnessed variety of group & individual event participation for the events of Best Reporting journalist, Rangoli, Solo Dance, Scriptography, Mime show, Tech Quiz, Nail Art, Instrumental Music Competition and many such events which had Judges from both inhouse and from Outside the college. The stage also saw the promotions and a great entertainment from the team of the movie, 'Hondisi Bareyiri' , A kannada movie by the talented youngsters based on the relationships during adolescents.
Day 3.
Day three witnessed large gathering of students from students across different colleges. The events of the day were Group dance, Geetha Recitation, Mehendi, Beat Boxing, Cooking without fire, Mono acting and many such. The auditorium was thunderously cheering for the variety of the programmes which was conducted. The final and concluding rounds of fashion show was judged by Ms. Kajol Bhatia(Miss India – 2018), Ms. Simran Sharma (International Super Model - Miami) & Mr. Mohammed Shahil( International Model and Fahion Choreographer) Post evening there was Prize distribution ceremony in which Seshadripuram Law College was awarded as the overall champions for participating in all the events, In the concluding ceremony, The Director Dr.Srikanta BS , appreciated the sincere efforts of both teaching staff & Non-teaching staff. Principal Prof. Asha N also spoke on the tireless efforts by the Student Governing Council members and the volunteers in making the "Cresindo 2k22" a grand success. The programme concluded with the presentation of mementos for every last person of Sindhi College, including Teaching, Non-Teaching, Maintenance staff and the Security staff of college.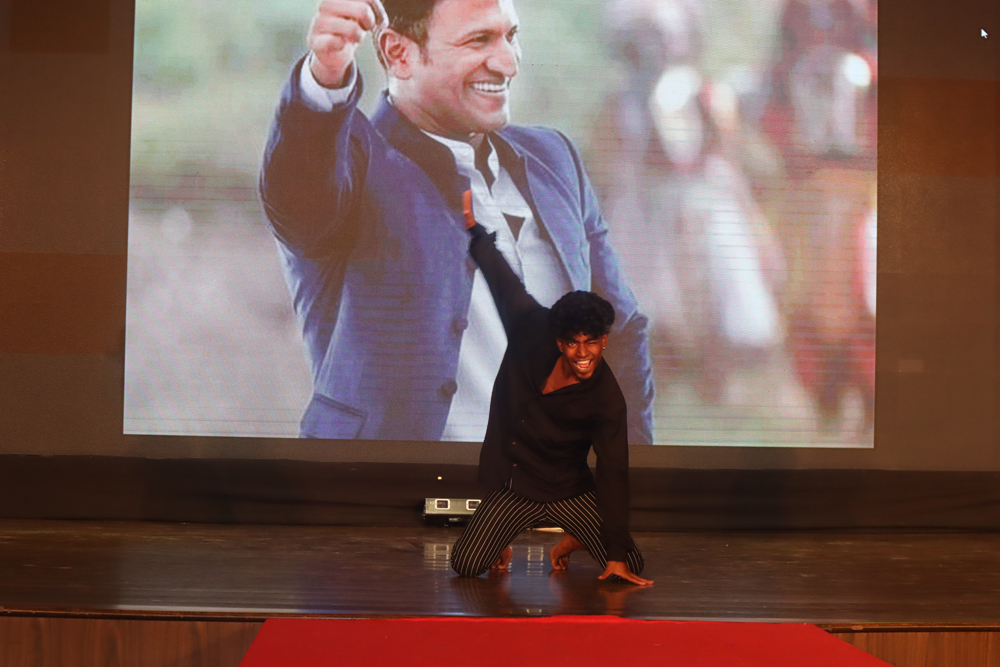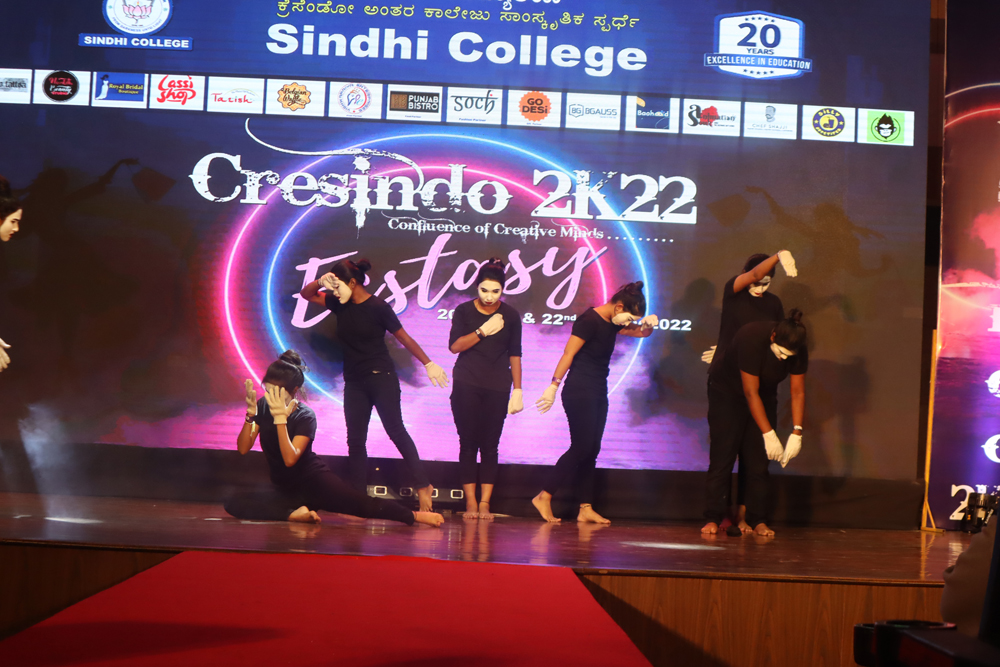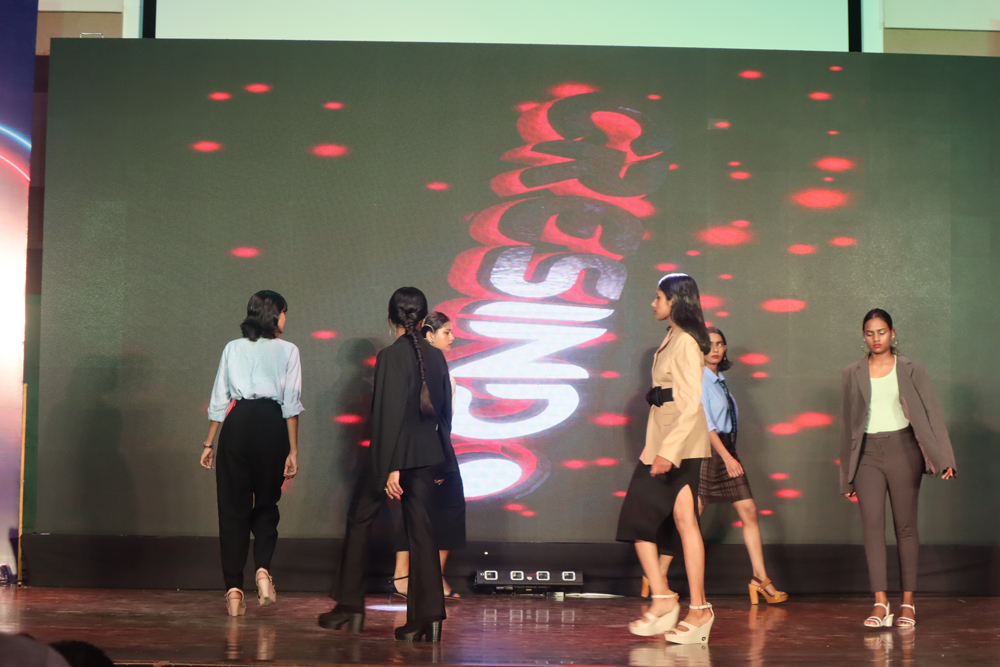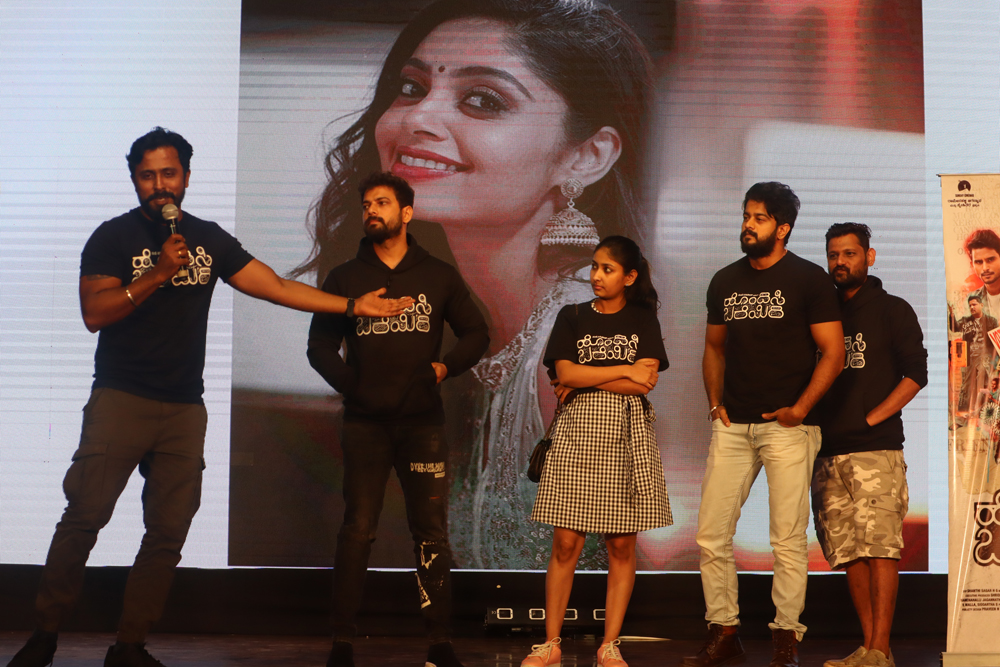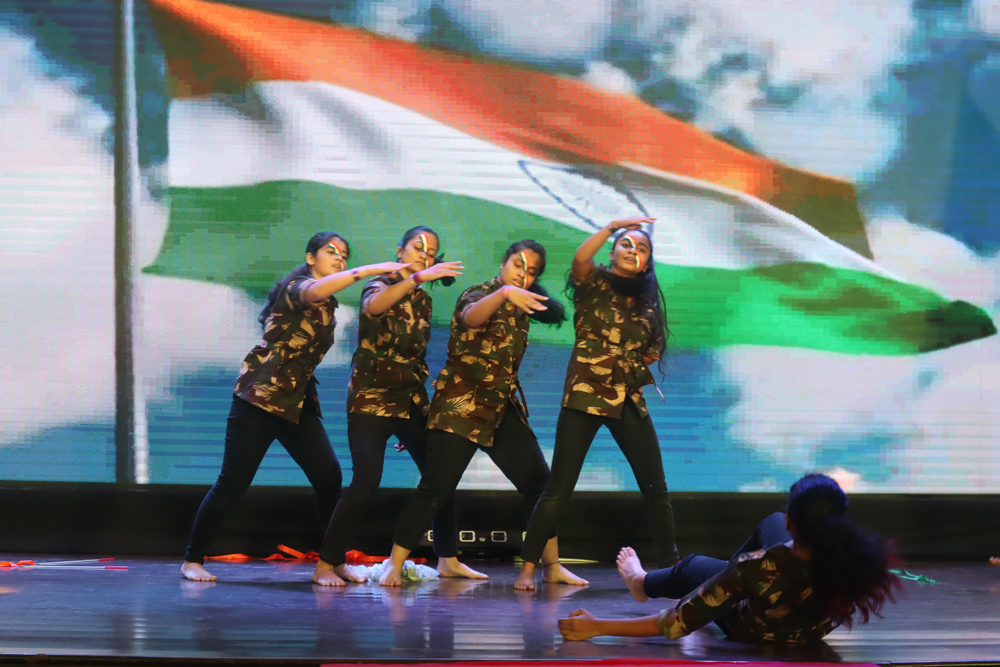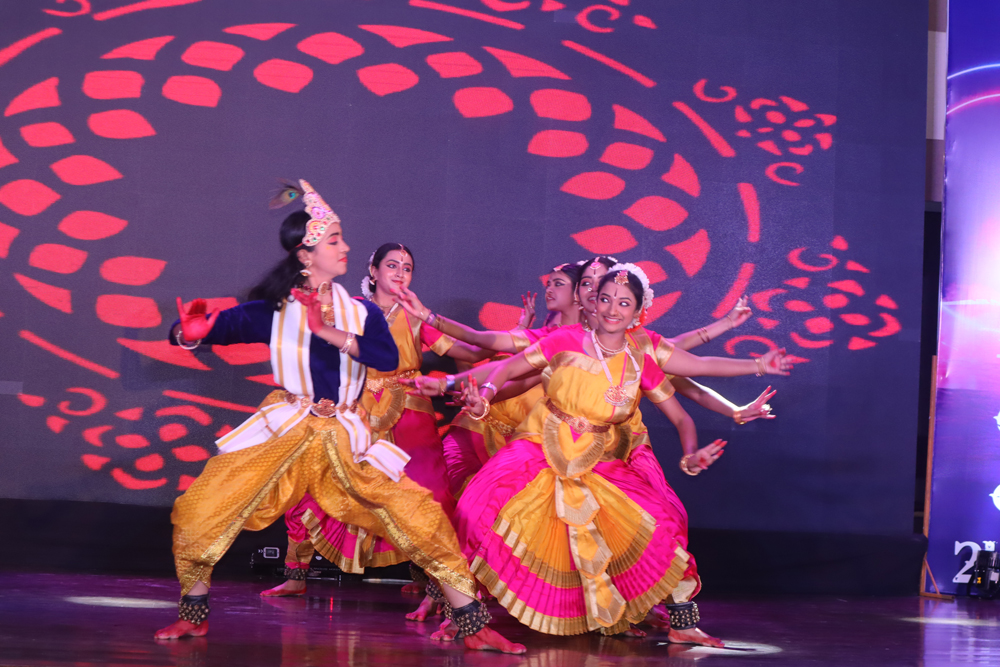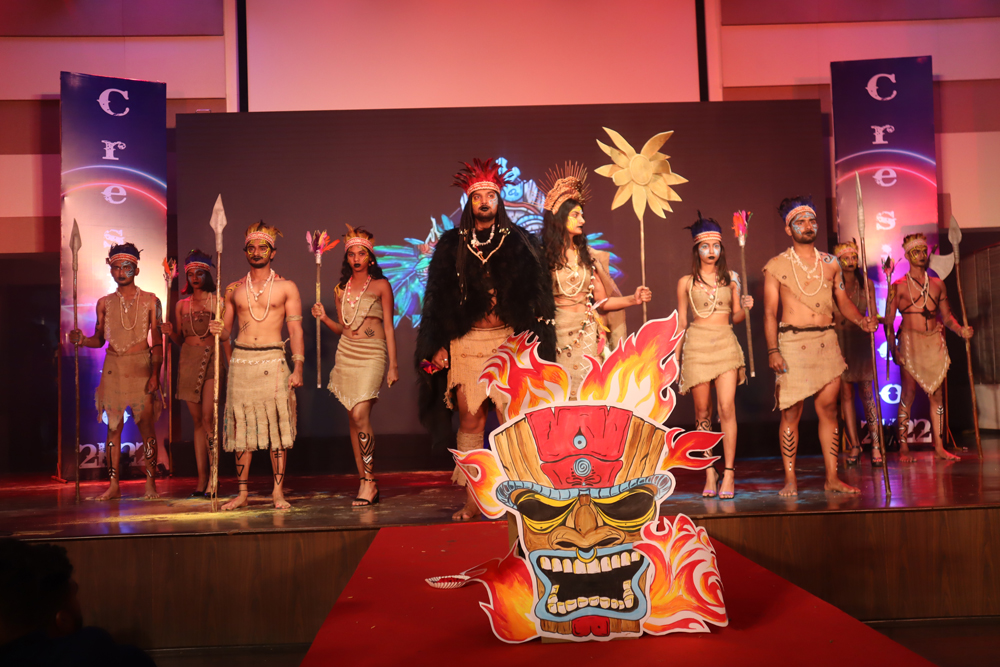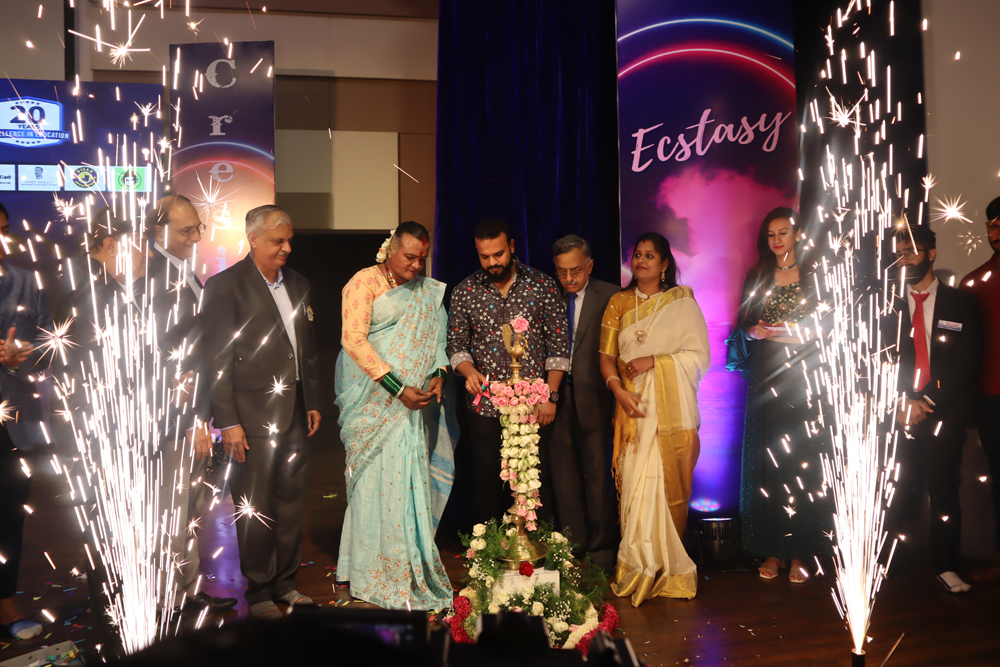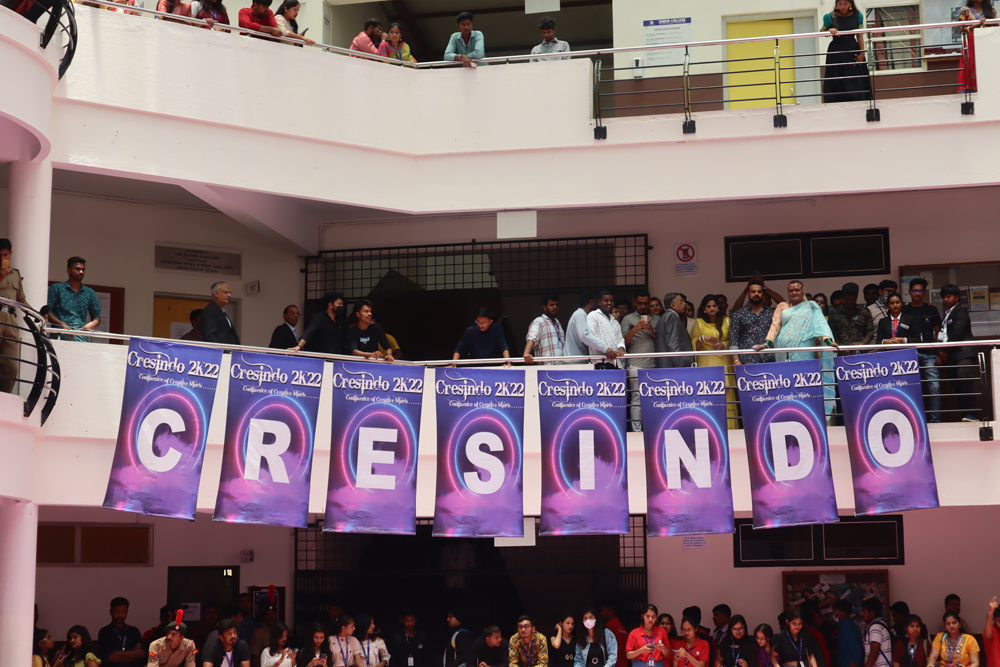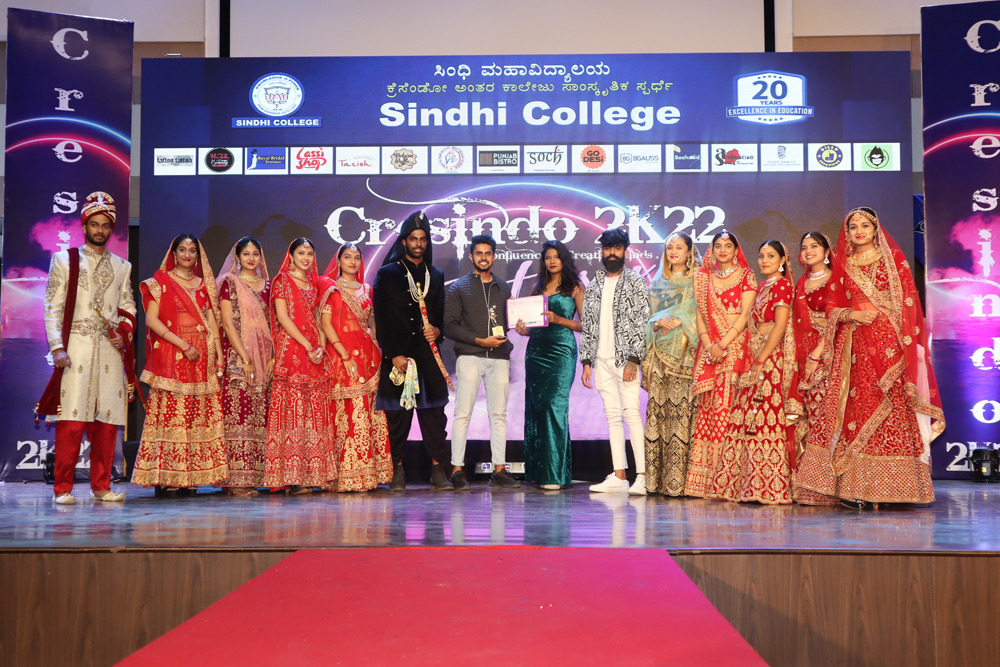 National Service Scheme (NSS)
The main objectives of National Service Scheme (NSS) are:
understand the community in which they work
understand themselves in relation to their community
Identify the needs and problems of the community and involve them in problem-solving
Develop among themselves a sense of social and civic responsibility
Utilise their knowledge in finding practical solutions to individual and community problems
Develop competence required for group-living and sharing of responsibilities
Gain skills in mobilising community participation
Acquire leadership qualities and democratic attitudes
Develop capacity to meet emergencies and natural disasters and
 Practise national integration and social harmony
M.A.Vaidyesh
NSS Programme Officer
Coverage :
Started initially in 37 universities involving 40,000 volunteers, the scheme has grown over the years and it is implemented today with an involvement of more than 2.6 million volunteers spread over in 200 Universities, Polytechnics and +2 Systems. The efforts of NSS volunteers have been widely acclaimed by the community, universities, colleges and general public as the NSS volunteers have been rendering selfless service to the community.
Motto :
The Motto of NSS "Not Me But You", reflects the essence of democratic living and upholds the need for self-less service. NSS helps the students develop appreciation to other person's point of view and also show consideration to '/other living beings. The philosophy of the NSS is well doctrined in this motto, which underlines/on the belief that the welfare .of an individual is ultimately dependent on the welfare of the society on the whole and therefore, the NSS volunteers shall strive for the well-being of the society.
Symbol :
The symbol for the NSS has been based on the giant Rath Wheel of the world famous Konark Sun Temple (The Black Pagoda) situated in Orissa, India. The wheel portrays the cycle of creation, preservation and release and signifies the movement in life across time and space, The symbol thus stands for continuity as well as change and implies the continuous striving of NSS for social change.
Badge :
The NSS Symbol is embossed on the badge. The eight bars in the wheel represent the 24 hours of a day. The red colour indicates that the volunteer is full of young blood that is lively, active, energetic and full of high spirit. The navy blue colour indicates the cosmos of which the NSS is tiny part, ready to contribute its share for the welfare of the mankind.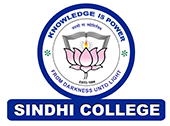 History of College NSS Unit :
The College NSS unit started functioning from the academic year 2013-14. The College was sanctioned half unit to identify fifty volunteer. Though the college was discharging the social responsibilities through SAP (Social Awareness Programme) NSS unit added strengths to this initiative. Ever since the college NSS unit has been rendering the community based services and also imbibes the social responsibilities among students.
Dr. Sundar Raj Urs, Professor and Chairman, Department of Physical Education and Co-coordinator NSS Unit, NSS Bhavan, Bangalore University,
was invited to inaugurate the College Unit.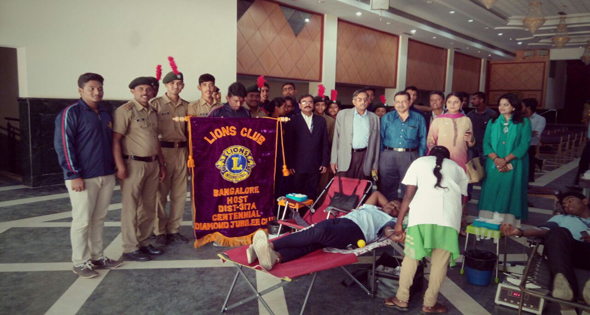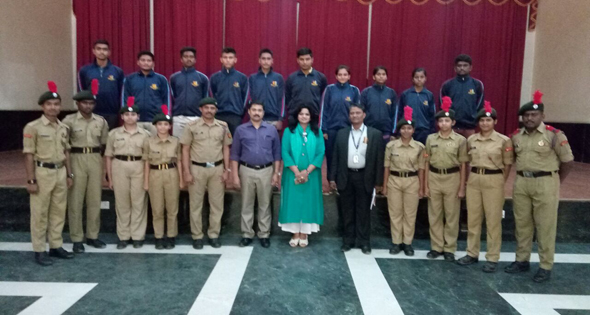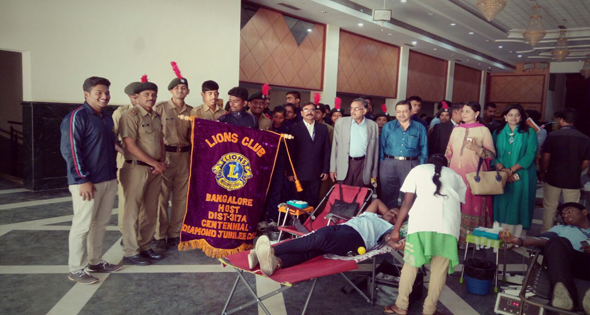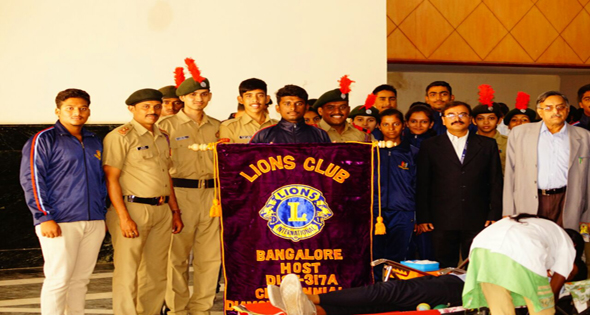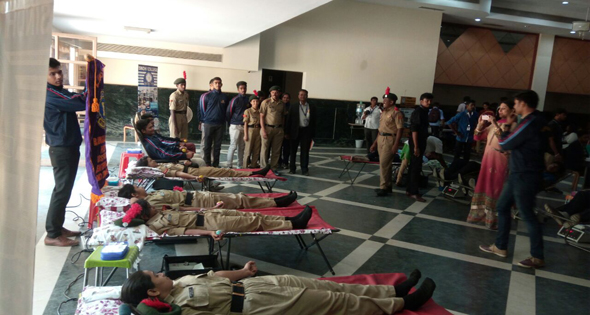 National Cadet Corps (NCC)
Objectives of NCC
To develop character, comradeship, discipline, a secular outlook, the spirit of adventure and ideals
of selfless services amongst young citizens
To create a pool organized, trained and motivated youth with leadership qualities in all walks of life, who will serve the Nation regardless of which career they choose.
To provide an environment conclusive to motivate young Indians to join the armed forces.
NCC unit is attached to 8 battalion Karnataka and Goa.
Students Grievance Redressal
Grievance Redressal cell is an integral part of the college. To maintain a harmonious atmosphere and to build positive approach in students, this cell is constituted. Students' grievances, if any, are redressed by the committee. The committee is chaired by the Principal and ably supported by the faculties, who are the members. 
Mechanism of Grievance Redressal
Redressal of Student Grievances the following steps are followed
Students are free to lodge a complaint/ bring into the notice of the coordinator of the Grievance Redressal Committee
Meeting of the Committee will be held & Grievance discussed
Appropriate action will be taken as per the seriousness of the Grievance.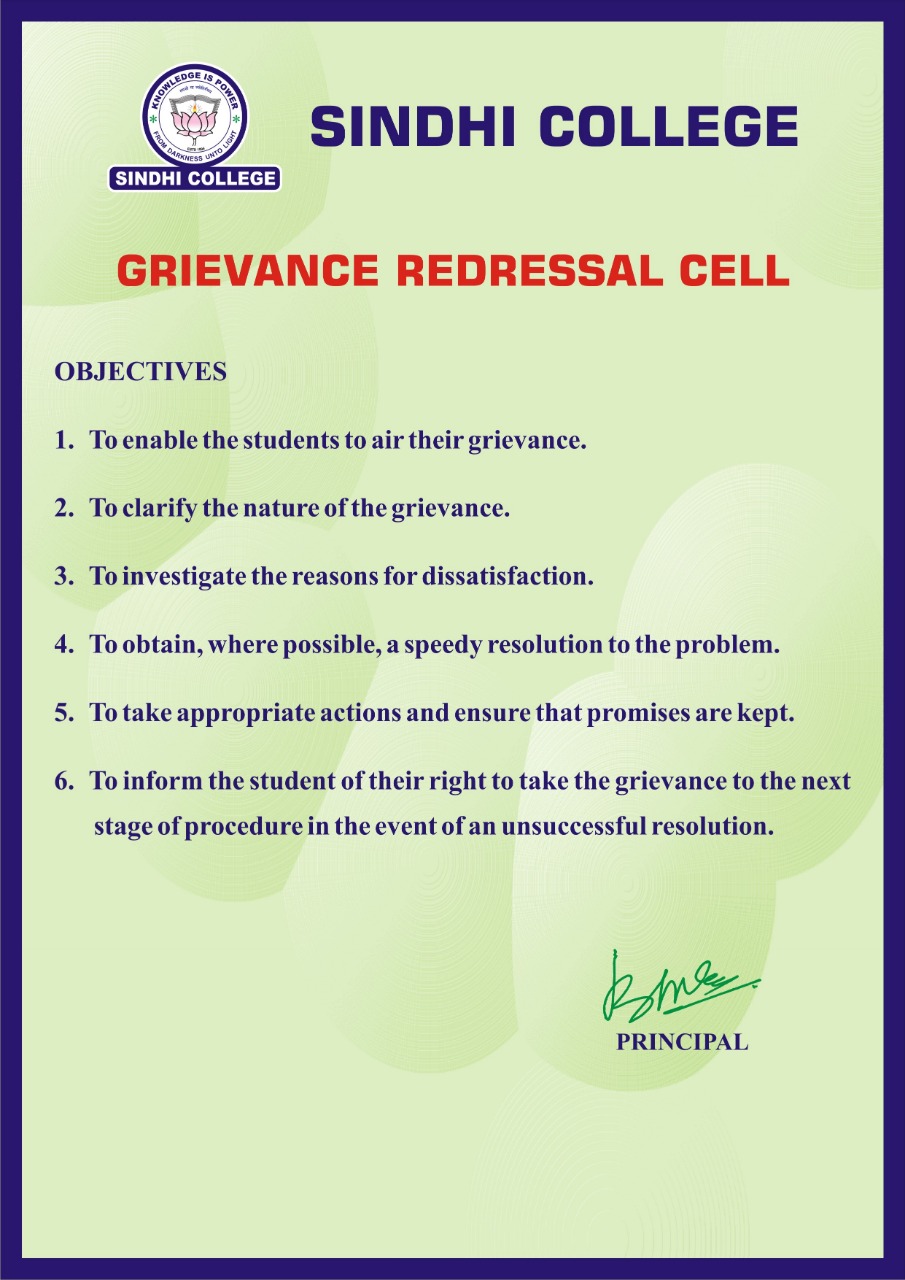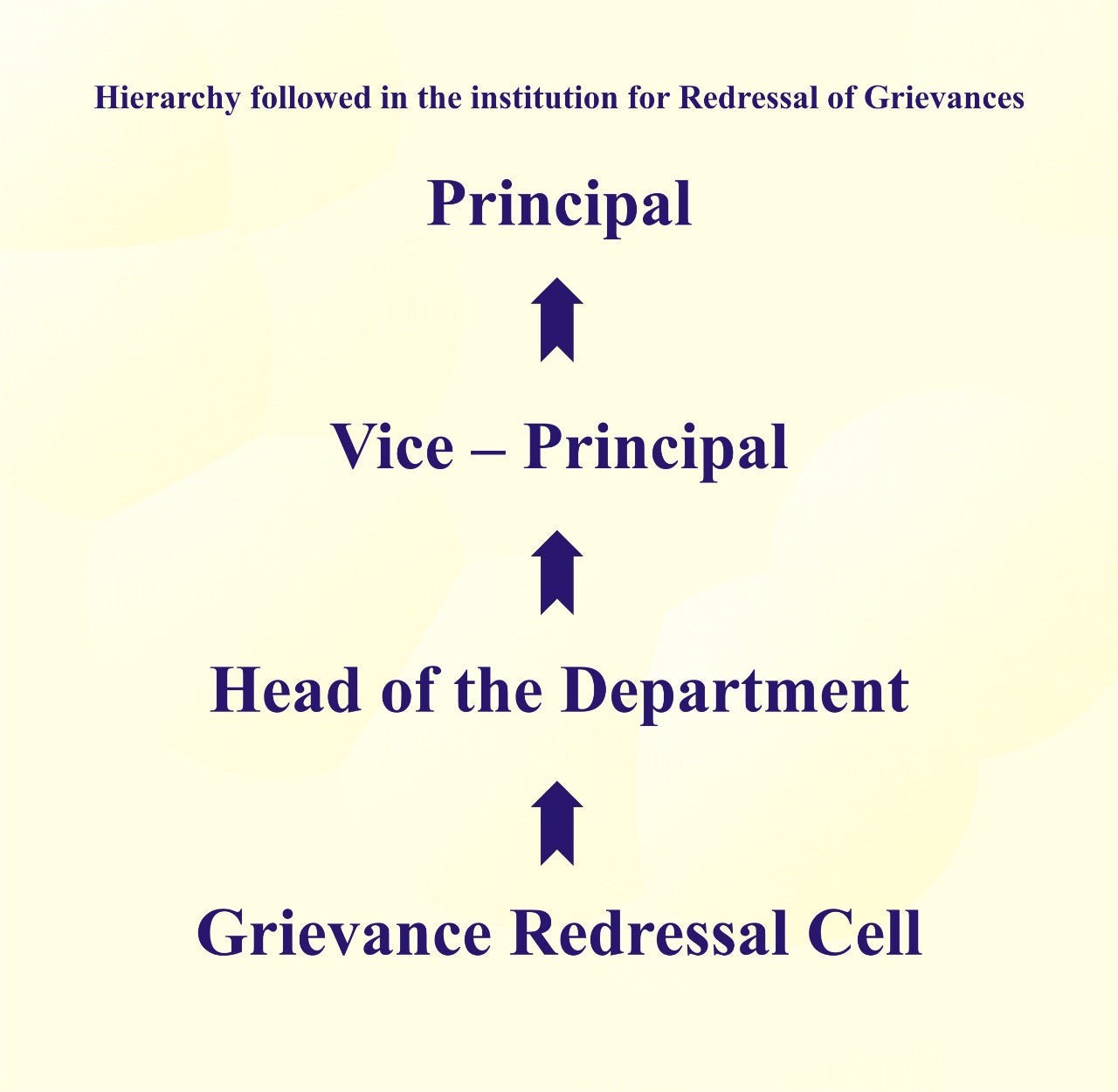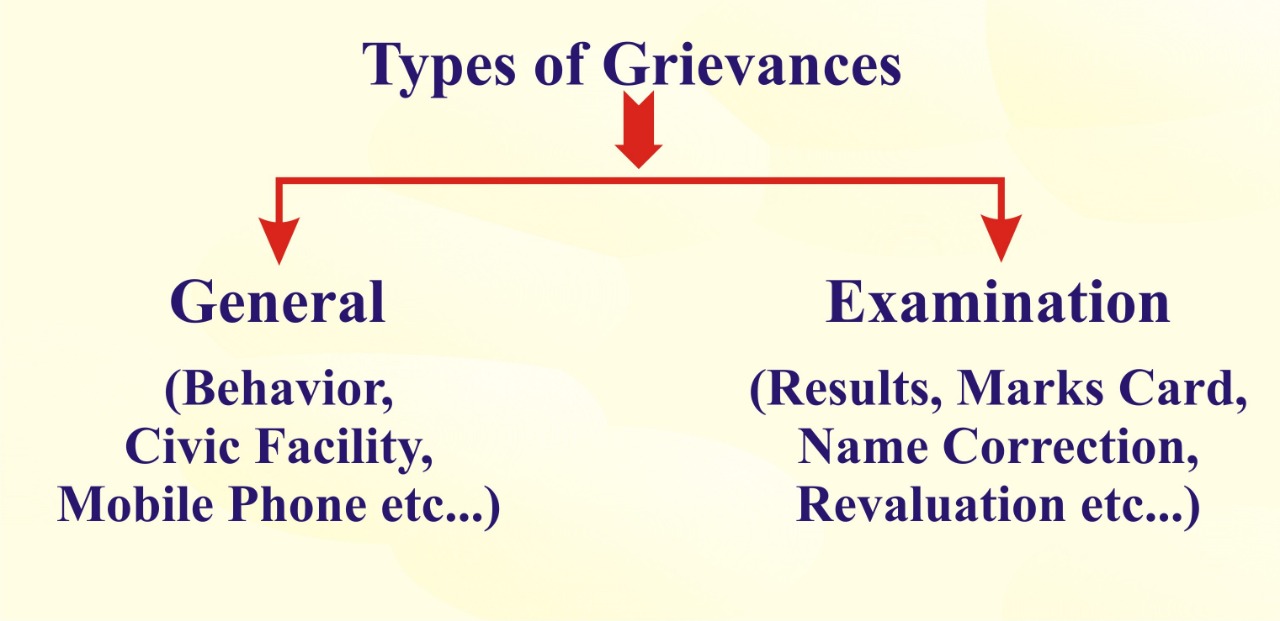 Grievances Redressal Cell(Online Submission)
The Grievance Redressal Cell attempts to address genuine problems and complaints of students whatever be the nature of the problem.
[ "*" Mandatory Fields ]
Mentor System
The Mentor System is practised in the college. Each teacher would mentor a group of 30 to 40 students by providing guidance and also encourage students to perform exceedingly well in academics. Marks secured in each semester are compared and measures are suggested for improvements.
Innovation & Incubation Centre (IIC)
VISION
To be a center of excellence that fosters synergy between the academia and the industry that fuels entrepreneurial spirit ,innovations and inculcates research bent of mind among students to help them to be self-reliant and contribute to the nation building.
MISSION " To increase the successful development of new businesses, job creation and employment in specific sectors that are aligned with a region's unique areas of opportunity."
OBJECTIVES
To nurture the students towards entrepreneurship.
To motivate students to become Job creators rather than Job seekers.
To create awareness about the benefits of Startup India.
To develop entrepreneurship skills among students.
To help the students to get seed capital assistance for their dream business ventures.
To nurture creativity and innovation among students.
To organise workshops, seminars on difficulties by entrepreneurs.
To arrange for internships.
To Train students on technical, legal and managerial knowhow.
To organise programme for skill development.
Anti Drug Committee
VISION
To ensure Narcotic free campus
To educate youth to reject illicit drugs
To organize anti-drug campaigns and spread the awareness in the neighbourhood
MISSION We are dedicated to strengthen protective factors against drug abuse and ensure drug-free campus
OBJECTIVES
To provide supportive environment for students and all stake holders to build competencies through regular life - skills orientation classes
To strive relentlessly for a drug- free campus by constantly encouraging the students to accomplish higher goals in life